Changing Laws, Changing Lives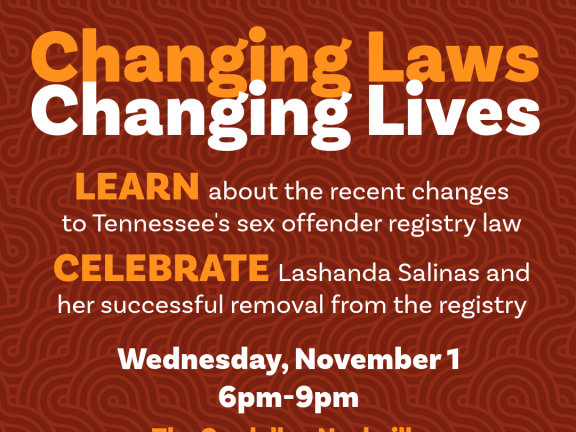 CHLP, the Tennessee HIV Modernization Coalition (THMC), the Elizabeth Taylor AIDS Foundation (ETAF), and the Sero Project present Changing Laws, Changing Lives. This special event on Wednesday, November 1 in Nashville will provide an opportunity for community members to learn about recent changes to Tennessee's sex offender registry laws and celebrate advocate Lashanda Salinas and her successful removal from the registry.
Thanks to the passage of Senate Bill 0807/House Bill 832 into law, exposure to HIV was removed from offenses requiring sex offender registration in Tennessee as of July 1, 2023. People living with HIV who have been convicted of criminal exposure can now request to terminate their registration requirements with the Tennessee Bureau of Investigation.
Local advocate Lashanda Salinas was one of the first people in Tennessee to apply for and be successfully removed from the registry. "This law is going to finally let me have my life back. I can see family, my cousins, and attend family reunions and participate in things," said Salinas.
This event will explain the sex offender removal process for those qualifying individuals previously convicted of criminal exposure. Lashanda will also be honored and get a chance to tell her story about coming off the registry.
Presenters:
Leah Freeman, THMC co-chair, will host the event
Jada Hicks, CHLP staff attorney, will present on the law (before and after)
Nathan Cisneros, Williams Institute, will present virtually on the impact of the HIV-specific law in Tennessee
Amna Osman, Nashville CARES chief executive officer, will highlight some of the advocacy work surrounding the bill
Jeff Preptit, ACLU of Tennessee staff attorney, will discuss the ACLU's lawsuit to challenge Tennessee's discriminatory aggravated prostitution law
Lashanda Salinas, Tennessee advocate, will speak about her experience
Community members, attorneys, or AIDS service organizations are invited to attend. Space is limited. Contact Jada Hicks for more information.