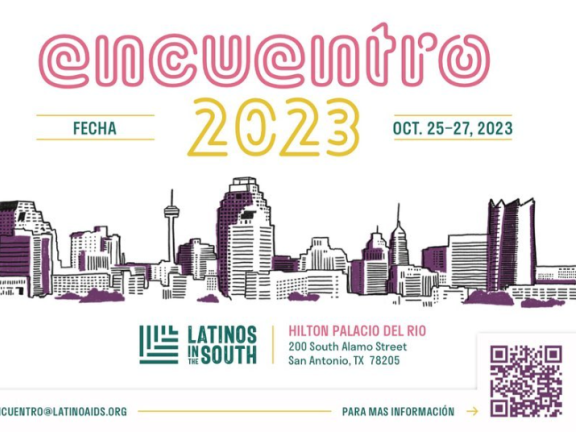 CHLP's S. Mandisa Moore-O'Neal will participate in plenary: Reclaiming our Bodies: an Exploration of Autonomy in the South on Friday, October 27 at 9:15am at Encuentro 2023.
The Encuentro was born from the 2019 Southern Latinx LGBTQ+ Regional Assessment focus groups, interviews, and survey of LGBTQ+ Latinx community members and allies from the deep south. Overwhelmingly, participants spoke about the isolation and invisibility of Latinx LGBTQ+ individuals, which continues to be exacerbated by the anti-immigrant political climate, homophobia, transphobia, and the lack of safe and inclusive spaces to gather.
The Encuentro is a community-driven, three-day convening, that brings together LGBTQ+ Latinx southerners and allies to establish a collective vision for advocacy in the South, challenge their own stories , and increase their organizational development and leadership skills. This year, Encuentro will take place in San Antonio, TX from Oct. 25-27. Registration is open until Oct. 15.
In recent years, the Southeastern states have become home to some of the fastest-growing destinations for Latinos. The South has consistently reported the highest HIV diagnosis of any US region (AL, FL, GA, LA, MS, TN, SC, and TX). HIV transmission is rising at an alarming rate among Latino populations throughout the region, while prevention education lags. Access to HIV-related medical care is complicated by fear, stigma, and for undocumented immigrants, a variety of administrative, practical, and legal obstacles.
Approximately 150 participants at the Encuentro will have an opportunity to address Ending the HIV Epidemic efforts, increase their organizational development and leadership capacity, establish a collective vision for health advocacy in the South, and challenge their own stories with a focus on race, ethnicity, sexuality, and gender identity. For the fourth year, Encuentro 2023 will create a space for Latinx LGBTQ individuals & allies from across the South to convene and organize.