Risky Business: Molecular Surveillance in the Age of HIV Criminalization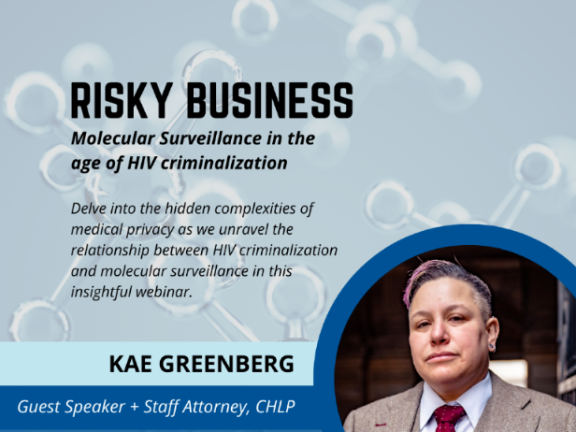 Although most people commonly believe that the medical data collected by their doctors is 100% private, that could not be further from the truth. All kinds of caveats and exceptions to medical privacy exist, including when members request data from law enforcement. And in over two-thirds of the United States, people living with HIV can and are subjected to prosecution. Against that backdrop, the CDC conducts molecular surveillance, collecting specific data about EVERY person with a positive HIV test without their knowledge or consent.
Join the Thera Community Team and special guest, CHLP's Kae Greenberg, for a dynamic presentation about molecular surveillance and its impact on HIV criminalization.
Attendees of this webinar will leave with: a better understanding of HIV criminalization; baseline knowledge about the history and process of molecular surveillance; what concerns advocates raise regarding molecular HIV surveillance (MHS) data; and how MHS is contextualized within the broader surveillance state.
Watch the recording:
Risky Business: Molecular Surveillance in the age of HIV criminalization from Thera Community Team on Vimeo.