Advocating for People Living with HIV in the Proposed Regulation Changes to the Older Americans Act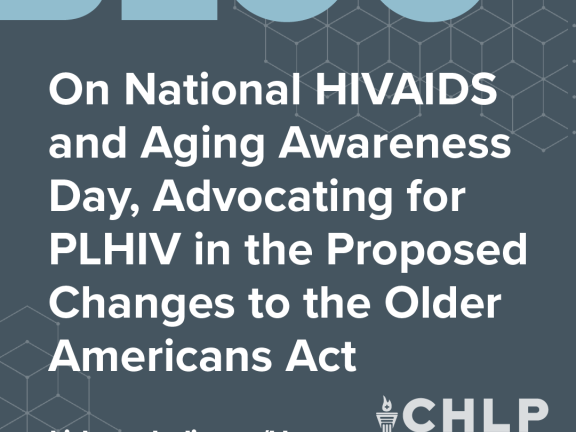 Last month, CHLP submitted comments to the Administration for Community Living (a division of the US Department of Health and Human Services) on the proposed regulation changes for the Older Americans Act. Passed in 1965, the Older Americans Act protects the rights and dignity of older Americans by establishing a baseline of community planning and social services for older people.
Today more than 50% of people living with HIV (PLHIV) are age 50 or older. It is imperative that their needs are explicitly detailed within the updates to the regulations, leaving no room for states to abdicate their responsibilities due to discrimination and bias.
As the author of CHLP's comments, I detail several ways in which the proposed regulations either take the specific needs of PLHIV into account but do not go far enough, or do not mention PLHIV at all.
For example, one of the focuses of the proposed regulations concerns guardianship procedures or when a court finds a person to be incapable of making their own decisions and appoints someone to make decisions on that person's behalf. The proposed change requires that money earmarked for guardianship procedures can only be used to provide counsel to people for whom guardianship is sought or provide for the defense of guardianship writ broadly.
This is particularly relevant in a national political climate where LGBTQ+ PLHIV's ability to make their own decisions could be called into question due to anti-LGBTQ+ rhetoric and bias. In a country where PLHIV are criminalized for engaging in otherwise uncriminalized behavior and face censure and stigma, where trans people are portrayed as mentally unfit simply for living as their authentic selves, any additional protection against having one's decision-making ability stripped from them by a family member or the government is of utmost importance.
The number of older Americans living with HIV is increasing and by 2030 more than 70% of people living with HIV will be over the age of 50. On this National HIVAIDS and Aging Awareness Day, we are calling on our community, advocates, and policymakers to ensure that the specific needs and vulnerabilities of aging PLHIV are accounted for in their advocacy and included in ongoing national discussions and planning for the needs of America's aging population.