CHLP Testifies on Molecular HIV Surveillance at PACHA Council Meeting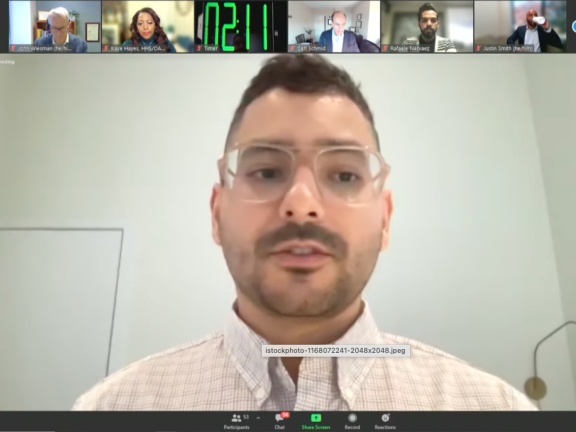 The Presidential Advisory Council on HIV/AIDS (PACHA) convened the 72nd full council meeting on Monday, November 15, and Wednesday, November 17, 2021.
On Monday, November 15, Demetre Daskalakis and Alexa Oster from the CDC Division of HIV Prevention presented HIV Cluster Detection and Response on molecular HIV surveillance from a health department perspective.
On November 17, during the public comment period, CHLP's Amir Sadeghi testified on the issue. He discussed the significant concerns levied by community advocates, including the issue of how people's identifiable health data is used without their consent, and that that information can be weaponized against people living with HIV to punish them.
PACHA provides advice, information, and recommendations to the Secretary of Health & Human Services regarding programs, policies, and research to promote effective treatment, prevention, and cure of HIV disease and AIDS, including considering common comorbidities of those infected with HIV as needed to promote effective HIV prevention and treatment and quality services to persons living with HIV disease and AIDS. This includes advice, information, and recommendations to the Secretary regarding the development and implementation of the Ending the HIV Epidemic in the U.S. and the HIV National Strategic Plan.
Text of Testimony by Amir Sadeghi, National Policy and Partner Strategist, CHLP
The Center for HIV Law & Policy works to address stigma and discrimination at the intersection of HIV, race, disability, class, sexuality, and gender identity, with a focus on criminal and public health systems. We've supported the advocacy power of movements dismantling harmful approaches to public health issues, including public health strategies that confront and dehumanize people living with HIV, that undermine their bodily autonomy and fundamental rights.
We are part of a growing consensus of people living with HIV, public health professionals, and legal experts who stress the risks associated with the implementation of molecular HIV surveillance. We question whether the level of investment in this form of research is the best use of extremely scarce resources in the many under-addressed HIV hotspots across the US where people are dying because of racist and structural barriers to care.
Networks of people living with HIV, including the Positive Justice Project, have raised the alarm on the many gaps in the patchwork of policies protecting health data since the mandatory molecular HIV surveillance program was announced in 2017. For decades, CHLP and staff have asked that CDC put its policies where its pronouncements are by declaring a national policy to firewall identifiable data from law enforcement access, and to condition its funding on a grantee's commitment to do the same.
People are fearful about public health surveillance data being weaponized against them - against the communities who our public health systems are working hardest to engage. Those fears are deepened by the fact that these are the same communities most likely to be targeted by HIV criminal legal enforcement in what is still a majority of US states that prosecute alleged HIV nondisclosure and exposure. But beyond this, it is a basic part of human dignity to have a say in how one's personal health information is used.
Despite CDC being asked multiple times, in a variety of formats, to require barriers separating health data collection from law enforcement and immigration enforcement, these requests have gone unanswered. CDC has acknowledged at every step that law enforcement should not access this data while simultaneously refusing to enshrine this principle in policy. Protecting identifiable health data means protecting communities, which is fundamental to building trust in our public health data infrastructure. If CDC is serious on the need to protect public health surveillance information from being accessed by law enforcement they can and should incorporate requirements for such protection in all CDC grant programs.
Mechanisms to counter medical mistrust through clear policies on data privacy should be considered and implemented before, not after, an initiative such as MHS is rolled out. Ending the HIV epidemic is only possible if people have trust in our health and public health systems. This administration and federal agencies have one path towards that outcome: clear, concrete protections that end the use of public health and personal health data as a vehicle to punish people living with HIV.