Forging Connections and Finding Inspiration at USCHA 2023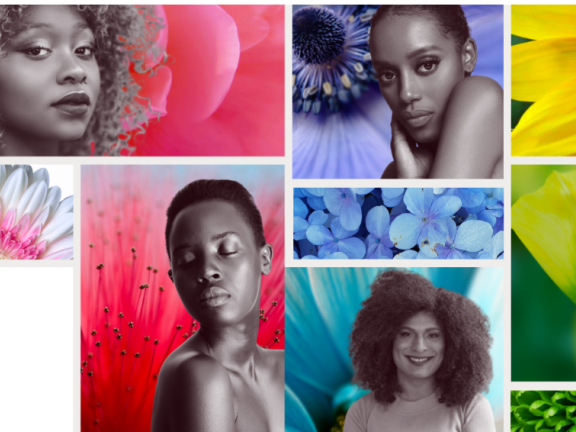 CHLP staff attended the U.S. Conference on HIV/AIDS (USCHA) from September 6 to 9 in Washington, D.C. Organized by NMAC, the 27th Annual USCHA featured institutes and workshops addressing issues in biomedical HIV prevention, aging, prioritizing the issues of people with HIV and the next steps in ending the epidemic.
Four CHLP staff members attended the conference as participants and presenters. The theme of the conference was "A Love Letter to Black Women" and it focused on issues that affect Black women within our communities and how to combat systems of oppression that target Black women. Importantly the event was very inclusive of Black trans women and centered on their experience of navigating the world while living with HIV. 
"It focused on the survival of Black women when interacting with medical systems, empowering us to speak up," said Dalene Davenport-Canty, CHLP Program Manager.
The event opened with a plenary session that celebrated Black women, featuring an inspiring performance by the legendary Black female a cappella vocal quartet, Sweet Honey in the Rock, who were founded in Washington, D.C. The evening also featured a presentation by a group of long-term survivors and another by a group of Dandelions (life-term survivors or people born with HIV) each of whom gave moving tributes, in most cases memorializing, their mothers. 
"I really felt the love and intention put into actualizing this theme. It spoke to the complexity of Black women's experiences across age, skin tones, and body size," said S. Mandisa Moore-O'Neal, CHLP Executive Director.
As the plenary's featured speaker, U.S. Representative Maxine Waters (D-CA) called for urgency and action at this moment when House Republicans have proposed cutting $767 million in HIV funding from the 2024 budget. Prior to the conference opening, CHLP Staff Attorneys Jada Hicks and Kae Greenberg attended a news conference held on Capitol Hill on Tuesday afternoon. 
The news conference was called to denounce the drastic cuts to HIV funding and urged Congress to pass a clean reauthorization of the President's Emergency Plan for AIDS Relief (PEPFAR). CHLP had previously endorsed a letter, along with 150+ executive directors of HIV organizations, to denounce the cuts and the devastating impact they would have on both domestic and global efforts to end the HIV epidemic. 
On Thursday evening, CHLP staff were guests at the Gilead COMPASS Initiative Reception held at the National Museum of African American History & Culture. The COMPASS Initiative works with local community organizations and stakeholders to address the HIV/AIDS epidemic in the Southern United States. As such, the event provided an opportunity for staff to meet and mingle in person with many advocates from partner organizations across the South while enjoying an expansive view of Washington, D.C. from the museum.
Beginning on Friday, CHLP staff presented on three panels at the event and attended several others. Mandisa presented in Trust Black Women: Investing in Femme Leadership to End HIV. The workshop explored the importance of trusting Black femme leadership in ending the HIV epidemic in Black communities. Fellow panelists included moderator De'Ashia Lee, ANEA Coalition Director, Treatment Action Group; Dafina Ward, Executive Director, Southern AIDS Coalition; Tori Cooper, Director of Community Engagement for the Transgender Justice Initiative, Human Rights Campaign.
"It has been almost one year since I came into leadership at CHLP and this conversation afforded me the opportunity to deeply reflect on what it means to be a Black Southern queer woman leading a national organization. And to process in real time the way the messages that all of us have internalized about Black women (as strong, as angry, as aggressive) play out and the work we must continuously do to reject these stereotypes and lean into authentic leadership for all of us," said Mandisa.
Also on Friday afternoon, Kae Greenberg presented in No Rest: Threats to HIV Care and Prevention Abound. The panel was a multilevel examination of the threats to the HIV community posed by recent political developments. The panel was organized by Gwen Rathbun, Associate Director for Alliance Development at Merck, and moderated by Merck's Dawn Patillo Exum. Kae addressed Braidwood v. Becerra and its potential impact. Megan Riley of CRD Associates talked about what a government shutdown would mean, and the likelihood of it occurring. Wayne Turner of the National Health Law Program spoke about the impact of the end of the COVID-19 emergency on Medicaid enrollment. Addressing the work happening on the ground were Dena Gray Hughes, of the Triangle Area Network and A Toni Young of Community Education Group. Jen Laws of Community Access National spoke about 340b and basically how it is being "misused" to do things such as shut down hospitals. 
Closing out the conference on Saturday morning, Mandisa was joined by Athena Cross and Fryda Enriquez of AIDS United for Black Advocacy & Policy: Leading the Fight to Eliminate Viral Hepatitis. They spoke about the Sex/Health Alliance, which is a new framework to talk about viral hepatitis that looks at the criminalization of sex and sexuality at the intersections of race. This conversation is vital as hepatitis disparately impacts Black communities, who represent 12% of the US population yet account for 23% of people living with hepatitis C virus. The conversation was particularly meaningful to attendees, many of whom expressed excitement about exploring innovative ways to eliminate viral hep.
In reflecting on the conference as a whole, CHLP staff found the experience engaging and inspiring. "USCHA 2023 was an amazing experience. We were able to celebrate ALL Black women in a way that was not tokenizing and that truly uplifted our community," said Jada. From forging stronger connections with allies to finding new inspirations for our work, CHLP is already looking forward to leveling up the experience at USCHA next year in New Orleans. 
CHLP is thankful to the Elizabeth Taylor AIDS Foundation and Borealis Philanthropy for their financial support for our attendance at USCHA.