On the International Day to End Violence Against Sex Workers, CHLP Calls for An End to Laws that Criminalize Sex Work and HIV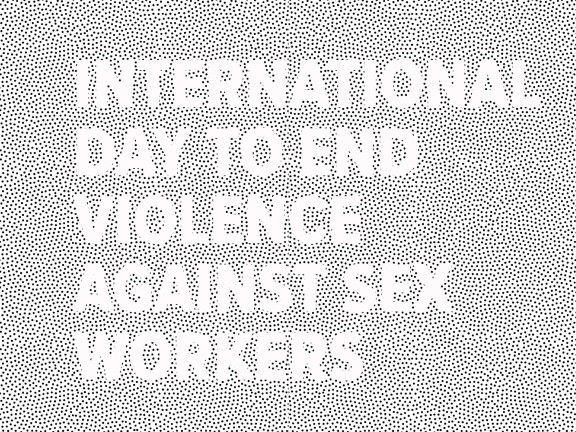 On the International Day to End Violence Against Sex Workers, CHLP Calls for An End to Laws that Criminalize Sex Work and HIV  
by Anne Kelsey, CHLP Staff Attorney​
December 17th is the International Day to End Violence Against Sex Workers, a day on which the sex worker community remembers victims of violence over the past year and calls attention to the social stigma, discrimination, and criminalization of sex work that have contributed to this violence. CHLP joins the sex work community's fight to end violence and challenges the violence and harm that criminalization of both health status and consensual victimless conduct cause to sex workers.
Eleven states currently have laws that increase criminal penalties for PLHIV who are convicted of prostitution or solicitation offenses. In several states where detailed data has been analyzed, sex workers represent the vast majority of those who are being arrested, convicted, and imprisoned for HIV offenses.
Law enforcement has continued to target sex workers in the middle of the COVID-19 pandemic and resulting economic crisis, which makes no sense in the context of evidence-based public health efforts to contain the spread of COVID. In Ohio for example, police have pursued both individual solicitation arrests and large "anti-trafficking" stings that do nothing to help supposed "victims" of trafficking. 
In one recent case that CHLP is monitoring, a woman walking down the street was invited into a car by an undercover cop who asked for sex. When she agreed to sex with a condom for $100, she was arrested. Although we do not know the circumstances of the disclosure, the indictment states that the woman told the officer she had tested positive for HIV. A search by the officer showed that the woman, a person of color living with a developmental disability, had condoms with her, which were seized as evidence. She was charged with loitering to engage in solicitation with the knowledge that the person tested positive for HIV, a fifth-degree felony with a possible prison term of six to 12 months, and she was also charged with having drug paraphernalia. Under Ohio's law, it does not matter whether there was any intent to transmit HIV or any possibility of HIV transmission, and no sexual activity is required. Merely discussing the possibility of arranging sexual activity for hire is sufficient for felony prosecution of a sex worker living with HIV, as is "beckoning" at someone if the purpose is solicitation. 
Ohio police also recently carried out a series of so-called "anti-trafficking" stings that have ensnared both sex workers and clients living with HIV. Statements by law enforcement officers make it clear that they make no distinction between sex work and trafficking, and offer little or no assistance to the arrested "victims" in these stings. 
Sting operations often include chaotic raids, where law enforcement agents enter a home or a workplace by force and without warning. They are often violent, traumatic, and humiliating experiences. "Victims" are arrested and jailed in defiance of the realities of COVID-19 and best practices in a pandemic. They are pressured to cooperate with law enforcement to access services or protect their immigration status. For PLHIV who were caught up in the sting, not only their mugshot but also their HIV status is publicly broadcast in news reports. 
While the first phase of coronavirus vaccine distribution has begun, we are a long way from getting past the pandemic and economic depression that is devastating communities around the country. It is absurd that, in the midst of this crisis, law enforcement officials are using precious resources to target and terrorize sex workers. State and local governments could be funding health and economic support services to improve community safety rather than squandering resources on entrapping, incarcerating, impoverishing, and separating people from their families, jobs, and communities. 
On this day of rememberence, CHLP joins with sex workers around the world to take a stand against this legalized form of violence against sex workers and to call for reform and effective repeal of laws that criminalize sex work and HIV. 
For more information, see Intersection of Sex Work & HIV Criminalization, a toolkit by CHLP and the Task Force for advocates against criminalization.