Punishment is Not a Public Health Strategy: Announcing a Convening on the Criminalization of Viral Hepatitis (2018)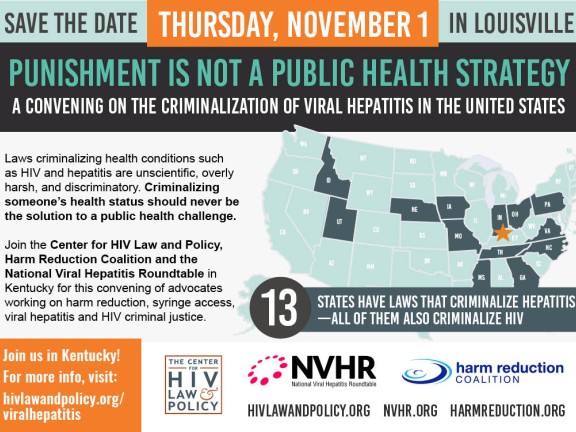 Laws criminalizing hepatitis single out people living with viral hepatitis for especially harsh treatment under our criminal legal system. Laws criminalizing viral hepatitis target the same behaviors as HIV criminal laws: sex, exposure to bodily fluids (blood or saliva), and needle-sharing. Often, the laws include situations where there is no real risk of disease transmission.
Just like HIV criminal laws, laws criminalizing hepatitis are unscientific, overly harsh, and discriminatory. Criminalizing someone's health status should never be the solution to a public health challenge.
The Center for HIV Law and Policy, Harm Reduction Coalition, and the National Viral Hepatitis Roundtable are bringing together advocates working on harm reduction, syringe access, viral hepatitis and HIV criminal justice in Louisville, Kentucky on Thursday, November 1. These orgs have also collaborated on a fact sheet showing how the criminalization of viral hepatitis is a brewing public health storm. With rates of hepatitis infections on the rise due to the burgeoning opioid epidemic, the barriers to safe syringe access, and the restrictions on access to curative treatments, advocacy and education are necessary to defend against the criminalization of hepatitis in the United States. Read the Fact Sheet.
Also join us for a webinar on the criminalization of viral hepatitis, focusing on the intersections between harm reduction principles, current trends in syringe service programs and treatment access for viral hepatitis, and efforts to reform laws criminalizing HIV and viral hepatitis. For the webinar and more info, visit the Center for HIV Law and Policy - Viral Hepatitis.
Punishment is not a Public Health Strategy: The Criminalization of Viral Hepatitis in the United States Thursday, October 4th, 2018 3PM - 5PM ET/12PM - 2PM PT
For more information, contact Arpita Appannagari