Deanda v. Becerra, Amicus Brief, Fifth Circuit Court of Appeals, Center for Reproductive Rights, et al. (May 1, 2023)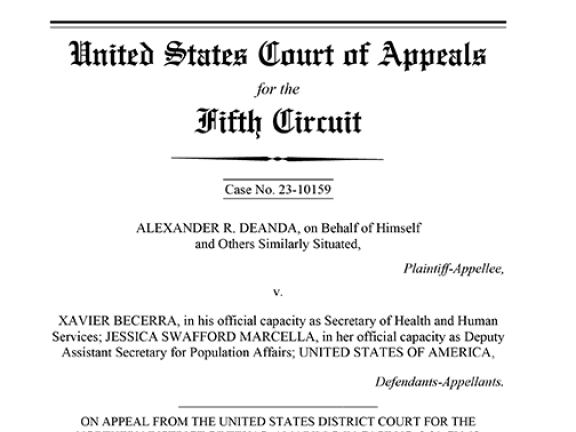 This amicus brief was filed by the Center for Reproductive Rights on behalf of Jane's Due Process, Advocates for Youth, and 133 other organizations—including CHLP— that are committed to advancing reproductive health, rights, and access for young people.
The case, Deanda v. Becerra, is on appeal to the Fifth Circuit Court of Appeals from the U.S. District Court for the Northern District of Texas. That decision by Judge Matthew Kacsmaryk requires proof of parental consent in order for minors to access birth control in Title X clinics in Texas.
The brief argues that the loss of independent and confidential access to birth control is harmful to youth in Texas that rely on these clinics for essential health care services by denying them the ability to make decisions about their health, lives, and futures.
Copyright Information: CHLP encourages the broad use and sharing of resources. Please credit CHLP when using these materials or their content. and do not alter, adapt or present as your work without prior permission from CHLP.
Legal Disclaimer: CHLP makes an effort to ensure legal information is correct and current, but the law is regularly changing, and the accuracy of the information provided cannot be guaranteed. The legal information in a given resource may not be applicable to all situations and is not—and should not be relied upon—as a substitute for legal advice.