Enforcement of HIV Criminalization in Tennessee, The Williams Institute, UCLA School of Law (2022)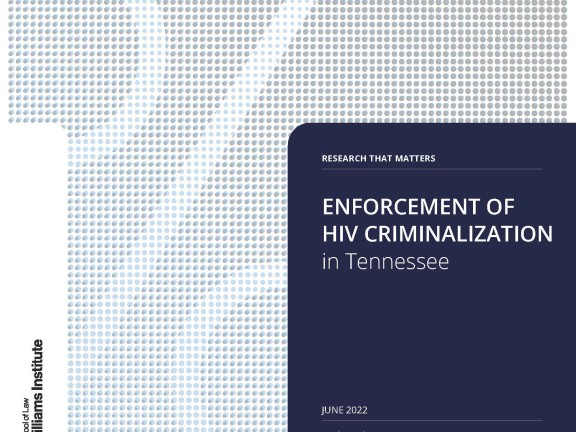 This report from The Williams Institute presents data from Tennessee about people with an HIV-related conviction who were placed on the state's sex offender registry (SOR). This is the latest in a series of reports on HIV criminal laws from the Williams Institute and provides a picture of how Tennessee's laws are being enforced.
Tennessee has two main HIV criminalization laws: aggravated prostitution and a criminal exposure law, but a conviction of either can place someone on Tennessee's sex offender registry (SOR). Consistent with previous Williams Institute findings on this topic in other states, the study found that Black men and women are overrepresented in HIV-related arrests. While Black people account for 75% of those on the registry for HIV-related offenses, they represent only 56% of the state's overall population of people living with HIV. Notably, Black women are 290 times more likely to be on the registry for an HIV conviction than white men.
The report also provides detailed information from Shelby County (Memphis) on the HIV-related convictions of SOR registrants. The data shows that sex workers were convicted of HIV crimes far more aggressively in Shelby County when compared to similar cities. These convictions were predominantly Black women.
Copyright Information: CHLP encourages the broad use and sharing of resources. Please credit CHLP when using these materials or their content. and do not alter, adapt or present as your work without prior permission from CHLP.
Legal Disclaimer: CHLP makes an effort to ensure legal information is correct and current, but the law is regularly changing, and the accuracy of the information provided cannot be guaranteed. The legal information in a given resource may not be applicable to all situations and is not—and should not be relied upon—as a substitute for legal advice.