Guiding Principles for Eliminating Disease-Specific Criminal Laws, Positive Justice Project Steering Committee (2015)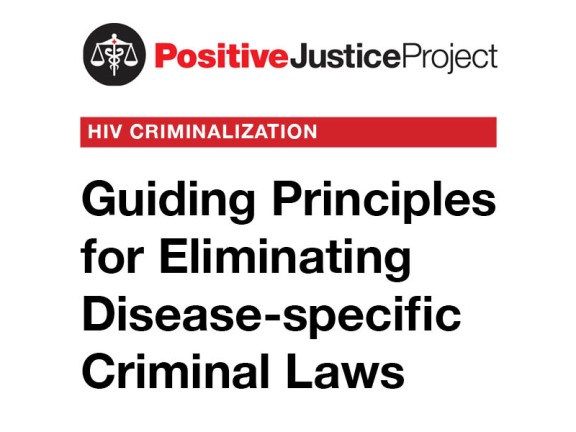 The Positive Justice Project (PJP), a national coalition challenging HIV criminal law policies in the United States, released this set of principles to guide the reform of state HIV criminal laws across the country.
The Guiding Principles for Eliminating Disease-specific Criminal Laws call for the reform of existing laws that exclude HIV and other infectious diseases from long-established interpretations of criminal felony laws requiring proof of intent to harm accompanied by conduct likely to cause death or severe injury for a conviction. Most states require only evidence that a person has been diagnosed with HIV and has engaged in some form of contact with a third party for a felony conviction and, in some cases, life-long sex offender registration.
Copyright Information: CHLP encourages the broad use and sharing of resources. Please credit CHLP when using these materials or their content. and do not alter, adapt or present as your work without prior permission from CHLP.
Legal Disclaimer: CHLP makes an effort to ensure legal information is correct and current, but the law is regularly changing, and the accuracy of the information provided cannot be guaranteed. The legal information in a given resource may not be applicable to all situations and is not—and should not be relied upon—as a substitute for legal advice.