HIV Criminalization in the United States: A Sourcebook on State and Federal HIV Criminal Law and Practice, CHLP (updated February 2022)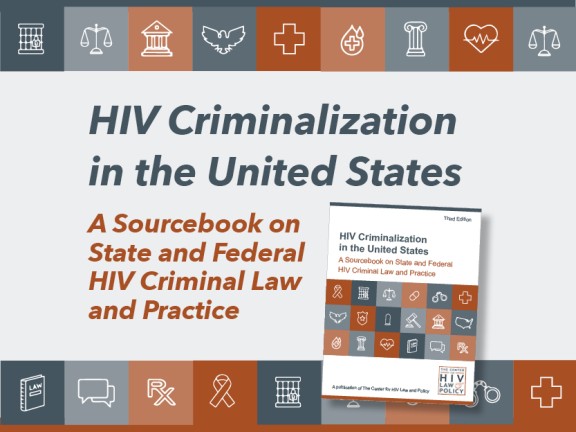 This resource for lawyers and community advocates outlines punitive laws, policies, and cases affecting people living with HIV (PLHIV) and other communicable diseases in all 50 states, the military, federal prisons, and U.S. territories. It may be used as an aid for attorneys of PLHIV prosecuted for "HIV exposure" or non-disclosure of HIV status, as well as for advocates who want to reform the HIV criminal laws in their state.
The HIV Criminalization Sourcebook includes the text, related case law, and analysis of statutory provisions that:
1. criminalize non-disclosure of HIV status or exposure of a third party to HIV;
2. make exceptions to confidentiality and privacy rights of PLHIV;
3. provide for sentence enhancements for PLHIV convicted of underlying crimes such as prostitution and solicitation; and
4. require sex offender registration for PLHIV.
The HIV Criminalization Sourcebook also includes punitive provisions and restrictive measures for people with other sexually transmitted infections (STIs) and communicable diseases. Such provisions may include mandatory testing, quarantine, and isolation. For more information on the Sourcebook's contents and how to use it, check the introduction on page 1.
The Center for HIV Law and Policy, the Georgia Coalition to End HIV Criminalization, HIV Modernization Movement Indiana (HMM), and HIV Prevention Justice Alliance sponsored a webinar on the Sourcebook, Introducing the Sourcebook on U.S. State and Federal HIV Criminal Law and Practice: Pathways to Reform and State Perspectives on Reform Strategy. The webinar provides an overview of the Sourcebook, including a discussion of different pathways to reform HIV criminal laws, some of the advantages and disadvantages of these different options, and key factors to consider in deciding on a reform strategy. Advocates from the Georgia Coalition to End HIV Criminalization and HMM Indiana join CHLP to describe efforts to reform the HIV criminal laws in their states and their experience of identifying a reform strategy. Click here to view the webinar.
Copyright Information: CHLP encourages the broad use and sharing of resources. Please credit CHLP when using these materials or their content. and do not alter, adapt or present as your work without prior permission from CHLP.
Legal Disclaimer: CHLP makes an effort to ensure legal information is correct and current, but the law is regularly changing, and the accuracy of the information provided cannot be guaranteed. The legal information in a given resource may not be applicable to all situations and is not—and should not be relied upon—as a substitute for legal advice.