Mapa: Criminalización del HIV en los Estados Unidos, CHLP (2022)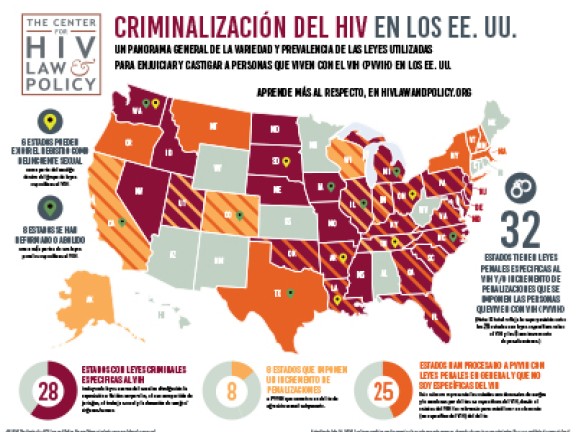 Este mapa de los Estados Unidos identifica los Estados (1) con leyes penales específicas del VIH; (2) aquellos que imponen mayores penalizaciones por delitos sexuales subyacentes; y (3) aquellos con leyes de delitos generales que se han utilizado para enjuiciar a personas viviendo con el VIH. Además, tomamos en cuenta a los Estados que exigen el registro como delincuente sexual, como parte del castigo según leyes específicas del VIH, a sí mismo incluimos a Estados que han realizado esfuerzos para reformar sus leyes específicas sobre el VIH.
Traducido por Marco Castro-Bojorquez.
Actualizado: Junio 2022
Haga clic aquí para leer en inglés.
Copyright Information: CHLP encourages the broad use and sharing of resources. Please credit CHLP when using these materials or their content. and do not alter, adapt or present as your work without prior permission from CHLP.
Legal Disclaimer: CHLP makes an effort to ensure legal information is correct and current, but the law is regularly changing, and the accuracy of the information provided cannot be guaranteed. The legal information in a given resource may not be applicable to all situations and is not—and should not be relied upon—as a substitute for legal advice.