State of Missouri v. Michael L. Johnson, Amici Curiae Brief, Missouri Court of Appeals (2016)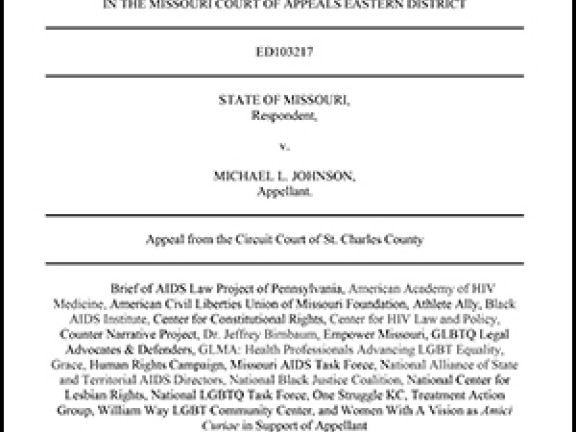 This amici curiae ("friend of the court") brief was filed in support of former college student Michael Johnson's appeal of his 30.5 year sentence for violations of Missouri's criminal HIV exposure/transmission law. Twenty-two organizations joined The Center for HIV Law and Policy's brief and arguments that the Missouri law, and Johnson's sentence, 1) violate equal protection and the right to privacy in one's medical information; 2) violate prohibitions against discrimination on the basis of a disability under the Americans with Disabilities Act and Section 504 of the Rehabilitation Act. The brief also argues that Johnson's sentence 3) is unconstitutional under the Eighth Amendment because it is grossly disproportionate to Mr. Johnson's conduct and any resulting harm.
The organizations submitting the amicus brief on behalf of Michael Johnson are:
AIDS Law Project of Pennsylvania
American Academy of HIV Medicine
American Civil Liberties Union of Missouri Foundation
Athlete Ally
Black AIDS Institute
Center for Constitutional Rights
Center for HIV Law and Policy
Counter Narrative Project
Dr. Jeffrey Birnbaum
Empower Missouri
GLBTQ Legal Advocates & Defenders
GLMA: Health Professionals Advancing
LGBT Equality
Grace
Human Rights Campaign
Missouri HIV Justice Coalition
National Alliance of State and Territorial AIDS Directors
National Black Justice Coalition
National Center for Lesbian Rights
National LGBTQ Task Force
One Struggle KC
Treatment Action Group
William Way LGBT Community Center
Women With A Vision
Attorneys Avram Frey and Lawence Lustberg of the national law firm, Gibbons P.C., working with Executive Director Catherine Hanssens of CHLP, led the drafting of the brief. Anthony Rothert of the American Civil Liberties Union of Missouri Foundation is serving as local counsel.
Copyright Information: CHLP encourages the broad use and sharing of resources. Please credit CHLP when using these materials or their content. and do not alter, adapt or present as your work without prior permission from CHLP.
Legal Disclaimer: CHLP makes an effort to ensure legal information is correct and current, but the law is regularly changing, and the accuracy of the information provided cannot be guaranteed. The legal information in a given resource may not be applicable to all situations and is not—and should not be relied upon—as a substitute for legal advice.