Centering System-Affected Youth in National Dialogues about Sexual Health and LGBTQ+ Rights: CHLP on National Youth HIV/AIDS Awareness Day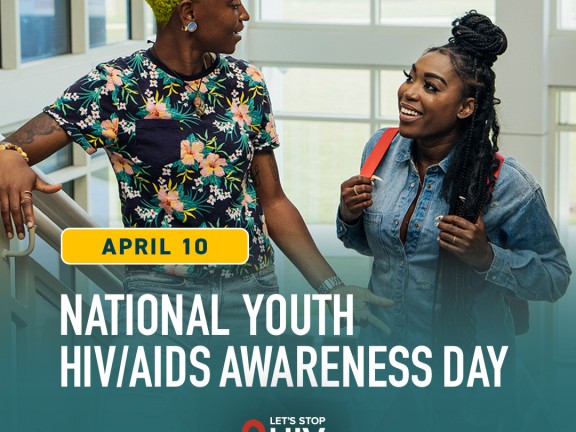 Centering System-Affected Youth in National Dialogues about Sexual Health and LGBTQ+ Rights: CHLP on National Youth HIV/AIDS Awareness Day
by The Center for HIV Law and Policy
Transphobia, homophobia, and racism in the United States are present in many institutions and systems, but one manifestation, in particular, needs more attention: the neglect of the health, rights, and needs of our youth. While there have been successful legislative and public health efforts to end the HIV epidemic, when it comes to the accessibility of modern HIV and STI prevention, marginalized youth continue to fall through the cracks. The data show the sad consequences of that indifference. In 2019, youth between the ages of 13 and 24 made up 21% of the 36,801 new HIV diagnoses in the United States and the highest rate of diagnoses was among black youth.
And, as if keeping comprehensive sexual and reproductive health care out of youths' reach is not enough, deliberate attacks on transgender youth are soaring through state legislatures. Yesterday, Alabama lawmakers banned all gender-affirming care for anyone under 19 years old. The Alabama ban, on its way to Governor Kay Ivey's desk, makes it a felony for medical providers to provide care or aid in gender transitions. Texas and other states are actively undermining the rights of transgender children and adolescents through a series of cruel legislative efforts that make their sexual health care needs a crime.
On February 22, Governor Greg Abbott of Texas directed the state's child protective services to classify the use of gender-affirming services as parental abuse. While a Texas district court blocked the implementation of this directive shortly thereafter, some parents of transgender children in Texas have left the state to shield their families from the toxic consequences of this campaign against their kids. Abbott's order also has caused Texas Children's Hospital to suspend all of its gender-affirming care for the foreseeable future.
The American Academy of Pediatrics and the American Medical Association have condemned such unconscionable attacks on trans youth. Yet Governor Abbott's directive is only a slice of a concerted effort across the country to villainize and invisibilize transgender youth and their right to the sexual health care they need to survive.
This most recent surge of attacks on trans youth can be viewed in the broader context of a national hostility to the rights of youth to access basic sexual health care and services that are crucial for their survival as young people and, eventually, adults. This Sunday, April 10th marks National Youth HIV/AIDS Awareness Day and it is high time that state and national policies recognize that sexual and reproductive health care, including gender-affirming services, is essential health care.
Nowhere is that recognition more essential than in the juvenile and child welfare systems. Because of the unmet health needs of incarcerated youth, they are at much higher risk for STIs. Youth of color are overrepresented in both the child welfare system and the juvenile system, and so are LGBTQ+ youth.
Unfortunately, the national dialogue about sex education in classrooms sidelines young people in state custody who have experienced the added trauma of being ripped from or thrown out of their homes. Dr. Kathleen Ethier, Director of Adolescent and Sexual Health at the Centers for Disease Control and Prevention (CDC), recently reflected on NYHAAD and the role schools play to improve youth health outcomes. However, we must remember the human dignity and fundamental rights of youth outside the reach of the classroom. By focusing solely on school settings, this dialogue blurs the fact that sexual health literacy is an essential part of health care for all young people.
The effort to classify gender-affirming care–which encompasses services from hormone therapy to counseling–as child abuse is one that is entirely predicated upon discrimination, fear, and willful ignorance. There is substantial scientific and medical data that gender-affirming care is not only safe but that it is also an integral part of a trans youth's health care. A clinical study in 2022 concluded that access to gender-affirming hormones during adolescence and adulthood is associated with favorable mental health outcomes compared to those who desired but could not access gender-affirming hormones. Other studies support the same conclusion.
While states wage wars against queer, non-binary, and transgender youth, the epidemic of sexually transmitted infections rages on unabated. It is imperative that this country heed the calls of the scientific and medical community to classify gender-affirming care and sexual health care as what they are: essential health care. And we should start by making sure that states meet their legal responsibility for the health rights and needs of youth confined in child welfare and juvenile systems.
Providing sexual and reproductive health care services to all young people is smart public health policy; these services are the only way to address STIs, HIV, unplanned pregnancies, and the stress that young people experience thanks to prohibitions against honest, nonjudgmental conversations about their bodies, emotions, and feelings as they transition into adulthood. Sexual health literacy also is a powerful tool to curb endemic levels of discrimination, harassment, sexual violence, and assault against young people who present as "different."
The Sexual Health Youth Advocacy Coalition (SHYAC), formed in 2017, is a national collaborative working to inform stakeholders about why the right to access sexual and reproductive health care is fundamental to all young people's health. SHYAC has worked for years to shed light on the unique needs of youth ensnared in the child welfare and juvenile justice systems who experience added discrimination and whose health inequities are deepened by state violence. On this National Youth HIV/AIDS Awareness Day, we call on you to endorse the SHYAC Consensus Statement on the Rights of Youth in State Custody, to use it in your own advocacy, and to center our nation's most marginalized youth in all your work.