CHLP and TransEquity Host Community Conversation on HIV Criminalization in Brooklyn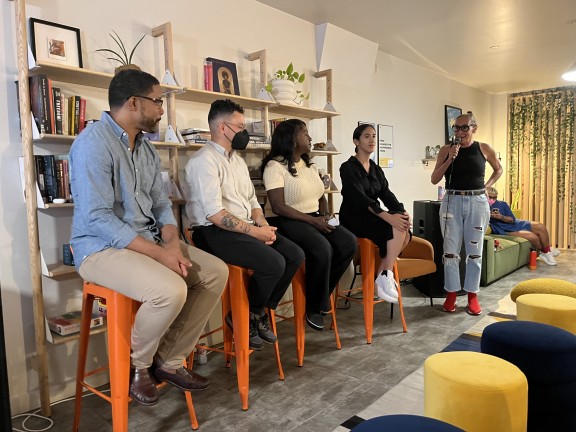 On Tuesday, September 12, CHLP and friends gathered for a town hall event on the topic of HIV criminalization. Organized and hosted by Trans Equity Consulting, the event brought together experienced advocates in the New York City HIV and LGBTQ+ rights movements for an intimate community conversation at the community event space Somewhere Good in BedStuy, Brooklyn. The event treated attendees to a robust discussion all while enjoying delicious vegan food by Greedi Vegan, a local Black-owned vegan restaurant.
Cecilia Gentili hosted the event and welcomed the group of advocates, who introduced themselves and began a wide-ranging discussion that touched on everything from Undetectable = Untransmittable (U=U), Public Health Law 2307 and sex education in New York City, consensual sex work, and much more. Gentili is Principal Consultant and Founder at Trans Equity Consulting, which builds the leadership of trans women of color and centers sex workers, immigrants, and incarcerated people as experts in creating a more just world.
Panelists spoke about personal experiences of being criminalized as well as the work their organizations are doing to combat the effects of and abolish the criminalization of HIV and other health conditions. As former sex workers, both Elisa Crespo and Gentili shared experiences and insights regarding being criminalized while engaged in consensual sex work. Crespo is Executive Director of the NEW Pride Agenda, which works to advance the economic, health, racial, and gender identity justice needs of marginalized LGBTQIA+ individuals in New York State.
Ingrid Floyd spoke about the impact that HIV criminalization has on her organization's work and how it makes it harder to ensure the safety of the women-identified individuals that they serve. Floyd is Executive Director at Iris House, which provides support, prevention, and education services for women, families, and underserved populations affected by HIV/AIDS and other health disparities in the New York metro area. She spoke movingly about a woman living with HIV who had her children taken away from her after her former partner of 12+ years accused her of non-disclosure after the relationship ended. "The way the law works, it's up to you, the person living with HIV, to prove this other person wrong," she said.
Robert Suttle spoke about his experience being criminalized in his home state of Louisiana for alleged non-disclosure in a consensual relationship. After taking a plea deal, Louisiana required him to register as a sex offender. Now living in New York, Suttle had to register as a sex offender based on that Louisiana conviction. While his legal challenge to that ruling was ultimately unsuccessful, it raised valid questions as to why New York requires registration for something that isn't a crime in New York. Suttle works to fight HIV criminalization as a consultant and serves as the Chair of The Elizabeth Taylor AIDS Foundation Council of Justice Leaders for the HIV is Not a Crime campaign.
According to a recent study by GLAAD, 81% of people think it should be a crime for people living with HIV to have sex with another person without disclosing their status. But today many people living with HIV can achieve an undetectable viral load making HIV transmission almost impossible. In 2019 in New York City, 87% of people living with HIV receiving treatment were virally suppressed. Events like this town hall are vital to bridging these knowledge gaps to help bring New York and other states closer to the goal of ending the HIV epidemic.
Amir Sadeghi is Policy and Advocacy Manager at CHLP, a national, abolitionist legal and policy organization that works to decriminalize HIV and other stigmatized health conditions. Across the country, there are 30 states with laws that explicitly criminalize HIV. He spoke about the work that CHLP is doing in New York and in other states to raise awareness about and abolish these outdated, stigmatizing, and anti-Black laws.
While New York is not one of those states that explicitly criminalize HIV, people living with HIV have been charged under other criminal statutes. Under New York Public Health Law § 2307, for example, a person living with an STI who has consensual sex with another person can be charged with a misdemeanor. The law was passed in 1909 to prevent the spread of "venereal disease" to members of the military. It has since changed several times and was amended to its current form in 1946. "This law was used as recently as last year to criminalize someone living with HIV," said Sadeghi.
New York also has a civil commitment law that has been used to indefinitely imprison people living with HIV the state deems capable of committing a crime in the future. Nushawn Williams, a man living with HIV, has been indefinitely civilly confined for 10+ years after he finished serving his full prison sentence.
Laws criminalizing the health status of people living with HIV and STIs are heavily stigmatizing and discourage people from seeking testing and treatment. A conviction under these laws brings with it a loss of access to social services and, where immigration status is concerned, it could be grounds for deportation.
Because communities of color also are disproportionately policed and prosecuted, these outdated laws disproportionately burden communities of color, particularly LGBTQ+ and trans communities of color, and those engaging in sex work.
"Many of these laws are outdated from when we didn't know that Undetectable = Untransmittable (U=U). We have made so much tremendous progress as it pertains to medicine and science and that's very important to bring up when you're talking to policymakers. I'm always conflicted about whether policymakers or politicians can create change, but I think on this issue, they can," said Crespo.
To that end, the REPEAL STI Discrimination Act has been introduced in New York State by Assemblymember Jessica Gonzalez-Rojas to get Public Health Law 2307 off the books. In addition to repealing the law, A3347/S4603 would ensure that people living with STIs cannot be held criminally liable for having consensual sex and, importantly, it would automatically expunge the criminal records of those with a prior conviction.
Brian Romero from the office of González-Rojas, attended the event and encouraged everyone to contact their state Assemblymembers and Senators to urge them to vote yes to eliminate this discriminatory and archaic law. A coalition of organizations (CHLP, Legal Action Center, the New Pride Agenda, Make the Road, NYCLU, Transgender Law Center, Lambda Legal, and GMHC) have been developing resources and mobilizing for the passage of this legislation.
Also in attendance was Adrian Guzman, Director of Policy and External Affairs for the New York City Department of Health and Mental Hygiene's Bureau of HIV. This town hall event is part of a larger project where CHLP is partnering with the NYC Department of Health and Mental Hygiene to raise awareness about HIV criminalization and how public health intersects with the criminal justice system.
Guzman, formerly a staff attorney at CHLP, thanked everyone for attending and indicated his office's support for REPEAL STI and also for acknowledging the importance of sexual health literacy. "We consider comprehensive sex education a tool in the HIV prevention toolkit—just as important as condoms or PrEP or emergency PEP," said Guzman. He also announced that the New York City Department of Education is launching a completely overhauled HIV curriculum.
Towards the end of the program, Gentili acknowledged the power and seriousness of the evening's conversation and asked each panelist to speak about what they were optimistic about. Regarding the public policy work, Crespo was inspired by "those who care deeply about decriminalizing STIs and the coalitions actively working and strategizing on how to get that done in the State of New York. In terms of the sponsor of this bill," she continued, "you have a champion."
"Undetectable = Untransmittable. That is the exciting news," said Floyd. "A lot of the women and men that we serve now feel safe having sexual relationships and they feel more comfortable talking with their families about HIV," she said. "The promise of U=U will hopefully help to change the laws and reduce the stigma, particularly in communities of color."
Sadeghi spoke about taking inspiration from the increasing interest in abolitionist movements. "Criminal legal systems and prisons were made by humans and can be unmade," he said. "But abolitionist thinking and practice aren't just about tearing down HIV criminal laws or closing prisons…it's about changing everything, from how we confront poverty and to how we distribute resources."
What was exciting for Suttle was the increased visibility and discussions around decriminalizing HIV in all its forms after decades of raising awareness. "We have made significant progress as a movement and must continue to do so," he said. "The more we expose the injustices, the less chance those who willfully oppress us can escape accountability."
"In the terrible downplaying of the still existing HIV/AIDS epidemic, one of the factors that help folks forget it is the lack of conversation about its criminalization," said Gentili. "This panel helped create awareness about the present state of HIV/AIDS (and STIs) criminalization. Such an important and needed space," she concluded.