News Release: Not in New York—CHLP Urges Court of Appeals Not to Enforce Harsh Louisiana Law Against Man Living with HIV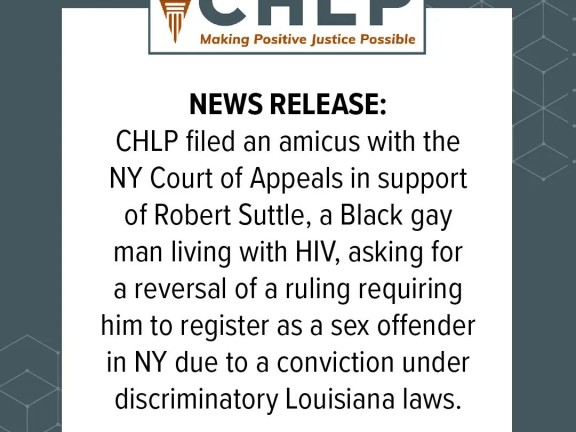 Not in New York—CHLP Urges Court of Appeals Not to Enforce Harsh Louisiana Law Against Man Living with HIV
CHLP amicus brief argues that the District Attorney and lower courts' upholding this discriminatory Louisiana law violates the ADA and New York State public policy
(NEW YORK) – On December 22, 2022, CHLP filed an amicus brief with the Court of Appeals, the highest court in New York State, asking the court to hear the appeal of Robert Suttle, a Black gay man living with HIV. Suttle is asking the Court of Appeals to reverse the lower court's ruling requiring him to register as a sex offender in New York due to his conviction under draconian and discriminatory Louisiana laws.
In its filing, CHLP argues that enforcing these laws constitutes discrimination against people living with HIV -– a violation of the Americans with Disabilities Act (ADA) and well-established public policy in New York state. Suttle's case is emblematic of the ways in which people living with HIV are targeted for punishment for engaging in consensual conduct that not only would not be criminalized except for their HIV status but also carries no actual scientific risk of transmission.
In 2009, an embittered ex-boyfriend claimed Suttle, then 30 and an Assistant Clerk with the Louisiana Second Circuit Court of Appeals, did not disclose his HIV status prior to engaging in consensual sexual conduct. Suttle was charged with "Intentional Exposure to AIDS," a felony carrying a penalty of up to 10 years in prison. This unduly harsh Louisiana law merely requires that an accuser allege non-disclosure for conviction, no actual risk of transmission nor actual transmission need have occurred. Rather than face the possibility of a long prison sentence, Suttle pled guilty and served six months in jail. As a consequence of the conviction under Louisiana law, upon his release, Suttle was placed on the state's sex offender registry until 2023.
In 2014, Suttle, now an internationally recognized advocate against laws criminalizing people living with HIV, moved to New York. Unlike Louisiana, New York state does not have specific felony criminal penalties for HIV non-disclosure. Nevertheless, the lower courts found that New York's Sex Offender Registration Act (SORA) required Suttle to be placed on the sex offender registry in New York until 2028. Neither the DA, the Board of Examiners of Sex Offenders, nor any New York court has claimed that Suttle poses a danger to the community. Yet, he is being forced to bear the stigma of sex offender registration, under threat of further felony charges if he violates the stringent requirements placed upon registrants, and all for five years longer than if he had remained in Louisiana.
Louisiana was one of the first states to criminalize people living with HIV under its "Intentional Exposure to Aids Virus" statute in 1987, at the height of the HIV epidemic, when little was known about the disease. At the time of Suttle's conviction and sentencing, the statute had only been updated once –- in 1993. Since then, a growing number of states have repealed or reformed their HIV exposure laws in response to the evolution in the scientific understanding of how HIV is transmitted. In addition, a recent study of how HIV criminal laws are enforced in Louisiana shows that they are almost exclusively weaponized against Black men -– with Black men accounting for 91% of those arrested for an HIV crime in the state.
"The HIV-specific law in Louisiana is another tool used to systematically prosecute and criminalize Black communities. The fact that the law remains on the books represents a lack of sexual health and infectious disease literacy surrounding the routes, risks, prevention tools, and treatment realities for the transmission of HIV and other infectious diseases that we have today," says CHLP Staff Attorney Jada Hicks. "This law works to perpetuate discrimination and vilify those living with stigmatized diseases, undermining public health goals to address infectious diseases and end the HIV epidemic."
In addition to its felony HIV exposure law, Louisiana is one of only five states where a person convicted of engaging in consensual sex with another adult while living with HIV is also required to register as a sex offender. CHLP's brief explains that targeting people living with HIV in this way directly violates federal protections in the Americans with Disabilities Act (ADA) and contradicts well-established New York state public health policy.
Congress passed the ADA in 1990 to prevent discrimination against people living with disabilities and it specifically covers actions by the state, including the courts themselves. Living with HIV is a covered disability under the ADA, not only due to the impacts the virus has on a person's health, but also to address the pernicious stigma that society's myths and misunderstandings about HIV transmission have on people living with HIV.
CHLP argues that the lower court's failure to engage in any kind of individualized analysis of Suttle's situation, as required by the ADA, and its finding that New York statute requires his placement on the sex offender registry due to his unjust Louisiana placement, are themselves a violation of the ADA.
The New York City District Attorney's argument against Suttle's appeal going forward tepidly states disagreement with Louisiana's law while maintaining that their "hands are tied" due to the language of the SORA statute. However, CHLP argues that this position, especially when requesting that the NY Court of Appeals not even hear Suttle's appeal, makes the DA complicit with the ongoing violation of Suttle's rights under the ADA.
"The attempt to 'pass the buck' by DA Bragg's office, the Attorney General, and the courts in this case fly directly in the face of well-established New York public policy that encourages the protection of people living with HIV and the use of actual public health-based approaches to end the epidemic," says CHLP Staff Attorney Kae Greenberg. "As the New York legislature has acknowledged through the passage of laws affirmatively protecting the rights of New Yorkers and those seeking reproductive care and abortions in New York, in our post-Dobbs world it is likely that New York will need to be a bulwark against the discriminatory and anti-scientific laws passed or newly enforced by other states. The Court of Appeals should hear this case and echo the legislature as well as the citizens of New York in unequivocally declaring that 'the buck stops here.'"
The appeal in this case to the highest court in New York is due to the ongoing advocacy of lead attorney Loraca Morello, attorney Richard Joselson and the New York Legal Aid Society, and the tireless advocacy of Robert Suttle himself, as he tries not only to correct the injustices of his own case but to ensure it doesn't happen to anyone else.

##