Ending Criminalization Means Standing Up for Sex Workers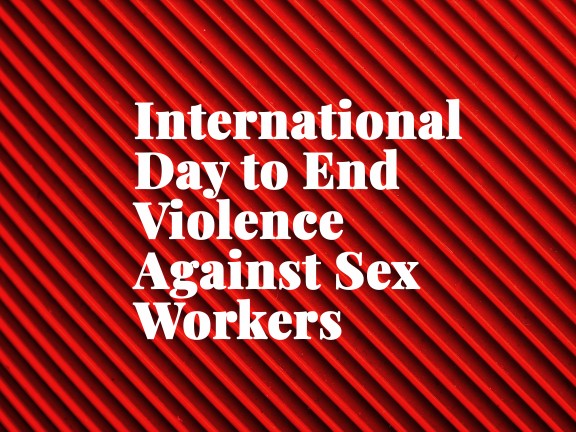 Friday, December 17th marks the 18th anniversary of the first International Day to End Violence Against Sex Workers, a day to honor victims of violence and to highlight the sex and gender bias that makes that violence possible. The overwhelming majority of those engaged in this work now recognize the need to show up for sex workers, rather than abandon them in the political bargaining process that is part of legislative advocacy.
The criminal legal system continues to sponsor state violence against sex work communities at every level. At least 11 states drastically increase criminal penalties for sex workers who are living with HIV, labeling them as dangerous felons and even as sex offenders in states like Ohio and Tennessee. While the December 2021 National HIV/AIDS Strategy (NHAS) finally includes welcome references to sex workers after years of pressure from the sex work community, they deserve far more. A concrete, actionable commitment to the decriminalization of sex work and identity, as a central aspect of racial, gender, and economic justice, needs to be a part of the plan.
Today, advocates in Ohio, Georgia, Tennessee, Mississippi, Arkansas, New Jersey, and Florida are mobilizing to end HIV-specific discrimination in their criminal laws. In July 2021, Illinois became the second state (after Texas in 1994) to fully repeal its HIV criminal laws. This past June, Nevada also achieved profound changes in their criminal and public health code provisions that punish HIV status, including provisions that targeted sex workers.
Not all change is equal, however. In July 2021, an omnibus crime bill became law in Missouri but made far more limited changes to the state's HIV criminal laws. It also left in place harsh penalty enhancements for sex workers living with HIV. Now a sex worker living with HIV can face Class B felony charges, punishable by up to 15 years' imprisonment. A Class B felony is the second-highest level of felony in Missouri. Voluntary manslaughter, defined as the intentional killing of another person, is also a Class B felony with the same penalties.
In Florida, three HIV-related criminal law bills were recently introduced. HB 787 (Transmission and Screening of HIV and Sexually Transmissible Diseases), HB 813 (Sexually Transmissible Diseases), and SB 1074 (HIV Prevention Justice Act). HB 813 and SB 1074 are identical bills. HB 787 primarily focuses on prostitution-related offenses but still doesn't go far enough to modernize HIV laws. HB 813 and SB 1074 primarily focus on the donation of blood, plasma, and tissue but leave in place criminal penalties for HIV-specific prostitution convictions as "felony sexual offenses." A person who has been convicted of murder or a felony sexual offense loses their right to vote, leaving sex workers convicted under these provisions without this important right. A study by the Williams Institute reported that in Florida, between 1986 and 2017, 756 people were arrested for HIV- or STD-specific incidents. The vast majority of those arrests occurred under laws related to sex work.
The struggle to end criminalization based on identity and health/disability related bias is far from over. To secure real justice for those who are crushed by the horrific inequities of the criminal legal system, we need to be intentional about keeping the bigger picture in view and centering the concrete needs of the most marginalized, the most criminalized, and the most unheard. Every bill based on compromises must include the support of those who will have to live with the consequences of those compromises. A bill passed at the cost of sacrificing the well-being, safety, and security of sex workers, with empty assurances that we will fix that injustice at a later date, is not a victory we should be celebrating.
Every single one of us deserves to live without fear of discrimination and violence. On this day of remembrance, CHLP recommits to supporting sex work communities' fight to end violence and the interference with their choices and lives. The time for "compromise" is over.