New Sourcebook on HIV Criminalization in the United States Released (2017)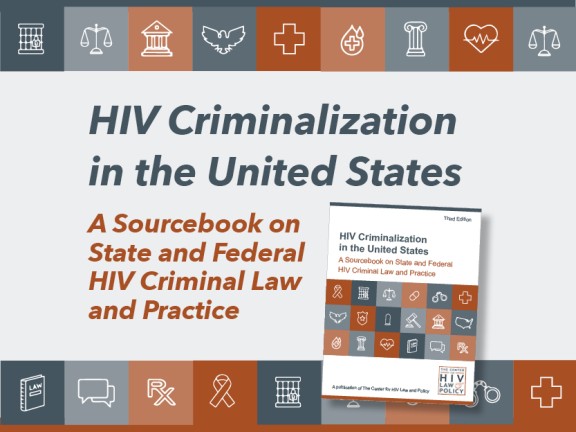 FOR IMMEDIATE RELEASE
Contact: Kate Boulton or Pepis Rodriguez, 212-430-6733
New Sourcebook on HIV Criminalization in the United States Released;
"Legal Literacy" Campaign Supports State-Level HIV Advocacy
"Knowledge is power, and to change the law you first need to know the law you want to change."
The Center for HIV Law and Policy
New York NY, August 30, 2017 – The Center for HIV Law and Policy (CHLP), a national leader on HIV legal issues and policy development, today announced the release of a new publication that catalogues and analyzes state and federal HIV criminal laws in the United States.
HIV Criminalization in the United States: A Sourcebook on State and Federal HIV Criminal Law and Practice includes examples of recent prosecutions and explanations of the major cases applying these laws, along with text and analysis of state laws on other sexually transmitted diseases that involve criminal penalties or other restrictions for exposing another person to possible infection.
The Sourcebook was developed in response to state HIV law reform organizing developments and is the first resource for lawyers and other advocates to catalogue both state criminal law and public health law that punishes sexually transmitted disease exposure.
"HIV criminal laws, the criminal and public health law schemes, and even how HIV is classified differ, sometimes dramatically, from state to state," said Kate Boulton, an attorney with CHLP working with state advocates in a variety of jurisdictions. "As state advocates will tell you, what makes sense in one state rarely can serve as a model in a different jurisdiction. And for attorneys representing people facing charges based on these laws, we're hoping the Sourcebook will be a tremendous help in getting up to speed on the law as quickly as possible."
"A key purpose of this Sourcebook is to gather all the relevant criminal and public health provisions that advocates or defense attorneys will need when considering their options for law reform or planning a defense of a PLHIV under current law," Boulton added.
The Sourcebook is part of CHLP's campaign to support state advocates through tools that expand legal literacy on HIV criminalization. In addition to the Sourcebook, CHLP's website includes a separate page for each state summarizing relevant HIV and STI criminal law sections, so that users can download everything they need just for their state in addition to accessing the entire Sourcebook.
The following individuals reviewed and offered comments on the new Sourcebook on HIV Criminalization in the United States:
"This new and comprehensive resource reflects the consistent hard work and dedication of the Center for HIV Law and Policy to address the issue of HIV/AIDS criminalization in America. The text will equip criminal defense lawyers and criminal justice advocates across the nation with critical information and insight concerning law and practice in this important area."
– Ivan J. Dominguez, Director of Public Affairs and Communications at the National Association of Criminal Defense Lawyers (NACDL)


"The Center for HIV Law and Policy's Sourcebook on HIV Criminalization in the U.S. is the most complete guide of state by state HIV Criminalization laws and other pertinent information available. As an advocate and state leader to modernize the HIV Criminalization laws in TN, this guide is so easy to use and look up any state specific information on my laws and other state's."
– Larry Frampton, Director of the Tennessee AIDS Advocacy Network


"Having represented persons in the Deep South who were criminally charged with nondisclosure of their HIV status, and having litigated federal and state criminal matters in which HIV stigma and misinformation have clouded issues of responsibility, intent, and punishment, I find the Sourcebook on HIV Criminalization to be immensely helpful for practitioners regardless of experience level. The Center for HIV Law and Policy, always a leader in anti-criminalization advocacy and education, gives us a tool that is well sourced, broad in scope, and useful in bridging the gulf between the science of HIV and the assumptions judges too often employ."
– Stephen R. Scarborough, Criminal Defense Attorney, Member of Georgia Working Group addressing criminalization repeal


"This latest edition of the HIV Criminalization in the United States: A Source Book on State and Federal HIV Criminal Law and Practice is an incredibly useful resource that will help guide state and federal efforts to reform these draconian laws and end the criminalization of people living with HIV."
– Dr. Carrie Foote, Professor at Indiana University-Indianapolis and Chair of the HIV Modernization Movement-Indiana
The Center for HIV Law and Policy will be co-hosting a webinar on October 11, 2017 to review ways to use the Sourcebook in HIV criminal reform efforts. The webinar also will explore some of the different strategic pathways to reform, along with benefits and drawbacks to those different options. The discussion will cover some of the key factors and questions to consider in deciding on what reform strategy makes the most sense in a given jurisdiction. (For more information on the webinar, email KBoulton@HIVlawandpolicy.org.)
# # #
The Center for HIV Law and Policy is a national legal resource and strategy hub for HIV advocacy. CHLP hosts the only online resource bank focused on HIV law and policy in the United States, and supports the lawyers, legal services providers, and community advocates on whom people who experience HIV discrimination rely.