The Power of the ADA to Challenge HIV Criminal Laws (2021)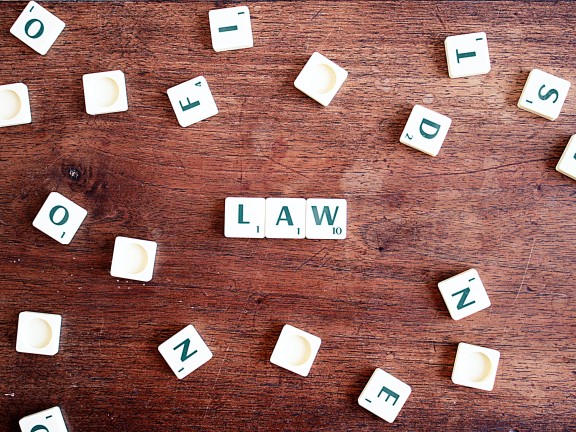 Since its inception, the Center for HIV Law and Policy (CHLP) has led the way in developing new and creative advocacy paths to fight laws and policies that criminalize people living with HIV. One way we are doing this is developing challenges to state HIV criminalization laws using the Americans with Disabilities Act (ADA).
The premise is a simple one. Laws that single out people living with HIV for unique—and uniquely onerous—punishment based entirely on their HIV status and scientifically unsupportable beliefs about HIV, violate the ADA.
HIV is a covered disability protected by the ADA, regardless of whether a person's HIV is symptomatic. This was confirmed by the first ADA case to go to the U.S. Supreme Court more than 20 years ago, Bragdon v. Abbott, and in the ADA Amendments Act of 2008 (ADAAA). The ADA prohibits state and local government entities as well as private businesses from discriminating against individuals with disabilities, including people living with HIV, in any of their services, programs, and activities.
The U.S. Supreme Court first addressed the application of federal disability antidiscrimination law to infectious disease in the 1989 case of School Board of Nassau County v. Arline, involving a teacher with a history of tuberculosis. Pointing to the irrational response that infectious diseases often inspire, the Supreme Court made it clear that the federal law protected those "regarded as" having a disability because people's fears and misconceptions about disability can be as limiting as an impairment itself. As one federal appeals court put it in a case affirming the right of a person living with HIV to serve on the police force, "the thesis of the [ADA] is simply this: That people with disabilities … should not be judged nor discriminated against based on unfounded fear, prejudice, ignorance, or mythologies; people ought to be judged on the relevant medical evidence and the abilities they have."
The ADA's very broad scope extends to the criminal justice system and the legislature. As its implementing regulations say, "Title II applies to anything a public entity does. ... All governmental activities of public entities are covered." The Department of Justice, the agency responsible for enforcing the ADA as it applies to state and local government agencies, has repeatedly affirmed its position that the ADA applies to all aspects of the criminal justice system, including arrests and enforcement of criminal laws, as well as the activities of legislators.
Particularly due to the dismal record of constitutional challenges to state HIV criminal laws, CHLP has raised ADA claims in a number of amicus briefs filed in HIV criminalization cases, including in the 2016 cases of Michael Johnson in Missouri and Orlando Batista in Ohio, and in briefs to New York appellate courts and the U.S. Supreme Court in the case of Nushawn Williams. Unfortunately, until defense attorneys advance and preserve these claims during trial, appeals courts are unlikely to address them.
Towards that end, in 2018 we convened a team of national experts in disability and constitutional law to review potential federal and state disability law challenges to challenge the validity of HIV criminalization laws in court and to identify state cases in which the facts and the state law provide a sound footing for an ADA challenge. This group became our "Team ATAC" (ADA To Attack Criminalization) to develop a national legal and advocacy strategy to use the ADA to challenge HIV criminalization laws.
Laws that criminalize HIV and other infectious diseases do not deter risky behavior, they do not promote disclosure, and they have not reduced the rate of new HIV or hepatitis diagnoses in any of the states in which they exist. In fact, disease criminalization directly conflicts with public health goals and ambitious state plans to end the epidemic. Any law that is based on the assumption that HIV is easily transmitted, and that engaging in sex while living with HIV should be a felony is stigmatizing on its face. Telling people that, based only on a diagnosed health condition, they are a potential criminal is particularly harmful to people who have been told for centuries that they are not worthy of equal treatment under the law, whether on the basis of race, sexual orientation, or gender identity. And, it violates the ADA.
On Wednesday, April 14, at 12:10 ET Yale Law School's Outlaws, YHeLPS and ThinkDifferent are hosting a panel to discuss exactly this. Join Catherine Hanssens, Steven Thrasher, and Joshua Blecher-Cohen for the discussion, at https://yale.zoom.us/j/91813845314.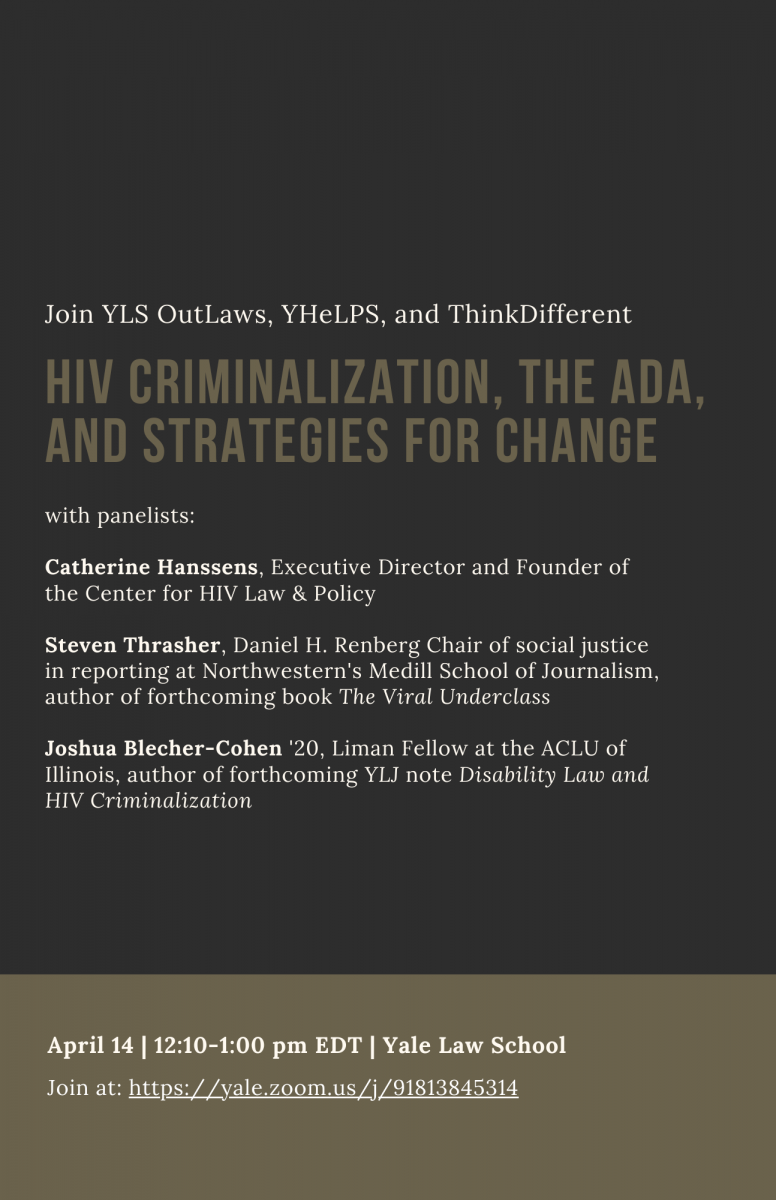 If you are interested in learning more, or have a pending case you'd like to discuss with us, please contact CHLP's Supervising Attorney, Jada Hicks, at [email protected].