Published September, 2022
The PJP Update, Positive Justice Project (September 2022)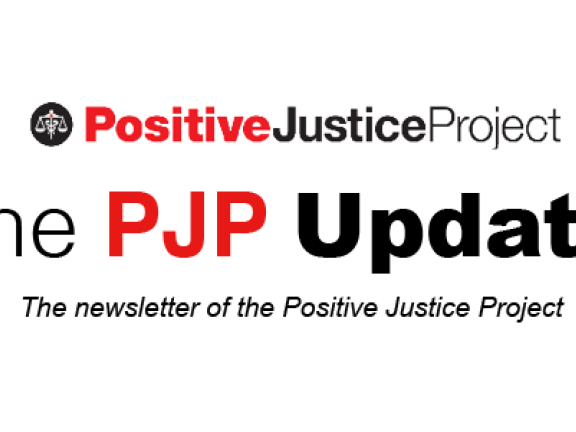 White House Office of National AIDS Policy Hosts Historic Prosecutor Roundtable on HIV Criminal Law
On June 30, CHLP and the Association of Prosecuting Attorneys (APA) in partnership with the White House Office of National AIDS Policy (ONAP), convened nearly 50 state prosecutors, attorneys general, federal officials, and national infectious disease experts at the White House to consider concrete ways to modernize state criminal laws and the criminal justice response to HIV-specific criminal laws. This historic White House convening was hosted and led by ONAP Director Harold Phillips and included discussions and presentations on the scientific advancements in the treatment of infectious diseases and provided data on state laws and enforcement of so-called HIV exposure crimes across the country.
The remarkable gathering produced, among other things, commitments from prosecutors and state health department officials to collaborate on health-based solutions; plans to participate in a follow-up meeting to keep moving the ball forward; and commitments from prosecutors to review laws and consider guidance to limit prosecutions. This meeting was part of a multi-year effort by CHLP to end criminal law responses to HIV and infectious diseases; CHLP and APA collaboratively launched the National Prosecutor Roundtable Project on HIV and the Law several years ago. "The White House meeting exceeded everyone's expectations and is a testament to the importance of working across aisles and disciplines and without assumptions about who is or isn't a potential partner," observed Catherine Hanssens, CHLP's Founding Executive Director. Read more...
CHLP Announces Leadership Change with S. Mandisa Moore-O'Neal to Become Executive Director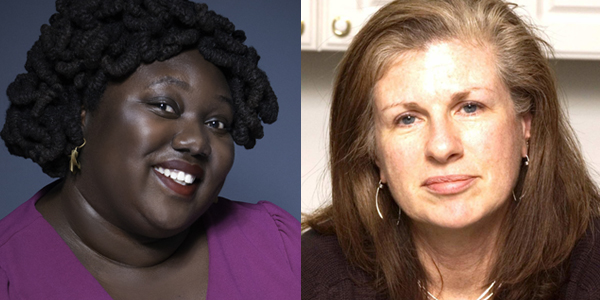 In July, CHLP announced that S. Mandisa Moore-O'Neal will assume the role of Executive Director in October of this year. At that time, Catherine Hanssens, CHLP's Founder and Executive Director of 16 years, will step into the newly created role of Chief Strategy Advisor. Hanssens is widely recognized as one of the country's leading experts on HIV legal and policy issues, and for playing a leading role in launching the HIV decriminalization movement in the U.S. Moore-O'Neal is a Black Feminist, cultural and political strategist, facilitator, and thought partner for grassroots organizations, coalitions, and initiatives that are interested in transforming conflict and confronting and shifting power and oppression. "Mandisa is exactly the right leader at the right time – incredibly smart, wise, brave, and dedicated to real systemic change that people can see and benefit from," said Hanssens. Read more...
CHLP Attends AIDS 2022 in Montréal, presents at U=U Global Summit
On July 28, the first one-day U=U Global Summit was held in Montréal as a virtual and in-person prequel to the 24th International AIDS Conference (AIDS 2022). Hosted by the International AIDS Society, AIDS 2022 brings together scientists, policymakers, and activists with the goal of improving human dignity for all people living with and affected by HIV. While the costs of attending the conference are prohibitive for the vast majority of advocates, CHLP's Catherine Hanssens and incoming Executive Director S. Mandisa Moore-O'Neal were invited to attend as part of two initiatives: the Prevention Access Campaign's U=U initiative and AIDS United's Southern Impact Fund. 

As U=U and a better understanding of how HIV infection is both treated and prevented continue to grow, the summit shared successes and challenges of the U=U message on a global scale. Summit speakers assessed structural barriers that frame health outcomes for PLHIV worldwide, including inequity in access to treatment and testing, persistent stigma associated with HIV, and related discrimination. CHLP's Catherine Hanssens took part in the conversation, addressing the limits of U=U's role in legal and policy advocacy. In her presentation, she discussed how efforts to reform HIV criminal laws should not rely on viral load and the extent to which PLHIV can access effective health care services. 

Viral load reliance also can perpetuate broad misunderstanding that HIV without treatment is still a relatively difficult virus to transmit. Individuals living with other criminalized diseases that are far more easily transmitted, such as Hepatitis C, could be harmed by reliance on a U=U viral load approach to law reform. Perhaps most importantly, even without structural barriers preventing many populations from becoming virally suppressed, an individual's health status should never be a potential negative factor in determining criminal guilt. Hanssens argued that reform efforts should focus on "intent to harm" in addition to acknowledging that HIV itself is not the "harm" many still believe it to be – rather, it is a manageable chronic illness with a limited impact on quality and length of life. She pointed out that the two biggest problems with all disease-specific criminal laws and prosecutions in the U.S. and beyond are that they focus on disclosure rather than intent; and that the sentences and penalties are out of proportion to the harm caused and the many options widely available for sexually-active persons to protect themselves against infection. Recordings from the conference will be made available to the general public starting October 4, 2022.


Moore-O'Neal attended the main AIDS 2022 conference, where she participated in discussions concerning grassroots responses to the HIV epidemic in South Africa, Brazil, Kenya, Uganda, Colombia, and India. The perspectives of advocates from around the world place CHLP's work against HIV criminalization within the context of the global struggle for justice for PLHIV. Moore-O'Neal was one of 24 advocates from across the Deep South selected to attend AIDS 2022 through AIDS United's Southern Impact Fund. 
State Advocacy Working Group Updates
Most states are not currently in legislative session but state advocates continue to meet and strategize around HIV criminal law reform.
Arkansas
The Arkansas HIV Reform Initiative (AHRI) continues to meet and strategize around HIV criminal law reform, community education, and coalition-building. Meetings are held on the second Thursday of the month at 11:00am (CT). To get involved, contact Eric Reece at [email protected].
---
Georgia
In May, Georgia became the most recent state to amend its HIV criminal laws. For more information on the law's implications, see CHLP analysis, HIV Criminal Law Reform, Before and After: Georgia. For more information about the Georgia HIV Justice Coalition contact the coalition co-chairs Eric Paulk at [email protected] and Malcolm Reid at [email protected].
---
Indiana

On August 30, the Indiana legislature's Interim Study Committee on Corrections and Criminal Code met with doctors and advocates to discuss reforming the state's HIV-specific criminal laws at the Indiana State Capitol. Earlier this year, the committee was tasked with reviewing laws that criminalize HIV. At the meeting, speakers addressed how the current laws, which criminalize spitting and biting, are based on outdated scientific knowledge about how HIV is transmitted and, as a result, do little to prevent transmission and instead promote stigma and discrimination. HIV Modernization Movement-Indiana (HMM) chair Dr. Carrie Foote urged lawmakers to reform the laws so that they are based on intent to cause harm and not a person's HIV status. Foote pointed to recent serious communicable disease challenges, including Syphilis, COVID-19, and monkeypox, where public health is being protected without the involvement of criminal laws. Click here to watch a video of the proceedings. The meeting and the committee's subsequent recommendations could open the door to reform during Indiana's next legislative session in January.
To get involved in advocacy with HMM, contact Carrie Foote at [email protected] or [email protected], or visit the coalition's website.
---
Louisiana
The Louisiana Coalition on Criminalization and Health (LCCH) is on the verge of hiring its first part-time administrative coordinator, which will add much-needed capacity as they increase base-building and political education work. The coalition continues to meet on the second Wednesday of the month. If you are interested in getting involved, contact [email protected].
---
Mississippi
To get involved with the Mississippi HIV Decrim Network, please email  [email protected].
---
Nevada
Following the successful passage of Senate Bill 275 last summer, the Nevada HIV Modernization Coalition is monitoring the implementation of the new law. For more information on the bill, see CHLP's analysis: Nevada Passes Law Reforming HIV Criminal Laws. To get involved, contact co-chair Connie Shearer at [email protected].
Ohio 
The Ohio Health Modernization Movement (OHMM) and plans to introduce draft legislation early next year. OHMM meetings are held every other month on the third Monday 6:00pm (ET). For more information, contact [email protected] or visit OHMM's website.
Southern States
The Southern HIV Decriminalization Network shares information about the work of state groups in the South to reform their laws and reports on developments of interest to the group. Calls are held on the fourth Thursday of the month at 3:00pm (ET). To join, contact Charles Stephens at charles.stephens@counternarrative.org.
Tennessee
Tennessee HIV Modernization Coalition co-chair Robin Lennon-Dearing is a co-author of the new report published by The Williams Institute, Enforcement of HIV Criminalization in Tennessee. The Tennessee report is the first of its kind to analyze enforcement data relating to how sex offender registries (SOR) affect PLHIV criminalized because of their status. 

Thanks to Lennon-Dearing, Nathan Cisneros, and The Williams Institute, we now know that the majority of people (51%) on the Tennessee SOR because of an HIV-related conviction were convicted of "aggravated prostitution." This law targeting sex workers living with HIV imposes a Class C felony penalty on PLHIV who "engage in sexual activity as a business or are an inmate in a house of prostitution, or loiter in a public place for the purpose of being hired to engage in sexual activity." 

Other important data points from the Tennessee report:
Nearly half (46%) of the SOR's HIV registrants were women, even though women only account for 26% of PLHIV in Tennessee. 
Over 75% of all HIV registrants are Black. On the SOR, the majority (57%) of aggravated prostitution registrants are Black women.

"...a Black woman was 290 times more likely to be on the registry for an HIV conviction than a white man. Black men were about 10 times more likely to be on the SOR for an HIV conviction than white men, and white women were 28 times more likely to be on the SOR for HIV conviction than white men."
The Tennessee HIV Modernization Coalition continues to build its community-driven, state-level campaign. To learn more and register for coalition meetings, visit their website or contact Robin Lennon-Dearing at [email protected]. The coalition meets on the second Wednesday of every month at 10:00am (CT).    
Washington
Since the Washington State Board of Health adopted regulations implementing a revised law affecting the criminalization of people living with HIV, it continues to be important to monitor how they are implemented. The Washington HIV Justice Alliance meets every other Monday at 11:00am (PT). To get involved, contact Dallas at [email protected].
CHLP's assistance in cases includes counseling defendants and their families, providing legal and trial strategy support to criminal defense attorneys, identifying and assisting with the preparation of medical and scientific experts, drafting sections of court submissions, and submitting friend-of-the-court briefs.
New York
An appeal of the July 2021 decision denying Nushawn Williams' annual review petition to be released from civil confinement was filed in early August 2022. CHLP is continuing to work with Nushawn's appellate attorney, with the attorney appointed to represent him at his next annual review, and with the Free Nushawn Coalition which spearheads informal advocacy in New York on Nushawn's behalf. We urge all New Yorkers to continue to reach out to NY Attorney General Letitia James, and to their other elected representatives at the local and state level to express outrage at Nushawn's continued confinement. New Yorkers interested in joining the Free Nushawn Coalition should contact Amir Sadeghi at [email protected].
If you are aware of anyone charged in an HIV exposure or transmission case, please refer them or their lawyer to CHLP for assistance at 212-430-6733 or [email protected].
Copyright Information: CHLP encourages the broad use and sharing of resources. Please credit CHLP when using these materials or their content. and do not alter, adapt or present as your work without prior permission from CHLP.
Legal Disclaimer: CHLP makes an effort to ensure legal information is correct and current, but the law is regularly changing, and the accuracy of the information provided cannot be guaranteed. The legal information in a given resource may not be applicable to all situations and is not—and should not be relied upon—as a substitute for legal advice.