Timeline of State Reforms and Repeals of HIV Criminal Laws, CHLP (updated 2022)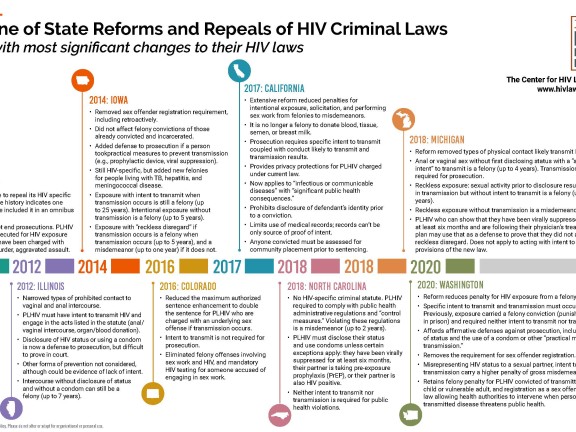 This resource for community advocates provides a timeline describing the repeals and reforms to HIV criminal laws in the seven states that have made the most significant changes to their laws since 1994. Special thanks to community advocate Bryan C. Jones of Ohio for recognizing the need for and requesting the creation of this resource.
For more information on the reforms in each individual state, see the links below.
Updated June 2022.
Copyright Information: CHLP encourages the broad use and sharing of resources. Please credit CHLP when using these materials or their content. and do not alter, adapt or present as your work without prior permission from CHLP.
Legal Disclaimer: CHLP makes an effort to ensure legal information is correct and current, but the law is regularly changing, and the accuracy of the information provided cannot be guaranteed. The legal information in a given resource may not be applicable to all situations and is not—and should not be relied upon—as a substitute for legal advice.