U.S. HIV Laws and Prosecutorial Tools, CHLP (updated 2022)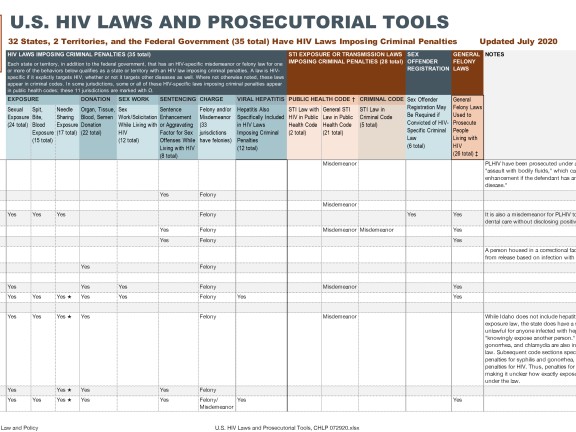 This resource is a detailed but concise snapshot of the federal and state laws used to prosecute people living with HIV (PLHIV), viral hepatitis and other sexually transmitted diseases. The chart provides a current synopsis of the variety of laws and range of penalties used to criminalize stigmatized diseases and identities in the military and in all U.S. states and territories.
The chart draws from the unique legal analysis in CHLP's compendium publication HIV Criminalization in the U.S.: A Sourcebook on State and Federal HIV Criminal Law and Practice, distilling the Sourcebook's 600+ pages of legal research and analysis into an easy-to-use chart highlighting the criminal laws, public health codes and other tools used to prosecute people living with HIV and other diseases. The resource is intended to support state advocates, policymakers, lobbyists, journalists and the broader national Positive Justice Project (PJP) work to reform laws that target primarily Black women and men.
A majority of states have HIV-specific laws that impose criminal penalties; many also target other diseases and other identities, including sex workers. For example, there are 12 states that have criminal penalties for sex work or solicitation while living with HIV. In three of those states, Florida, Calilfornia and Georgia, research by the Williams Institute of UCLA Law School has shown that sex workers bear the overwhelming brunt of HIV-related convictions in those states.
First developed in 2013 as CHLP's State-by-State Criminal Laws Used to Prosecute People with HIV, this resource was revamped and expanded in 2020 and renamed U.S. HIV Laws and Prosecutorial Tools. Last updated April 2022.
Copyright Information: CHLP encourages the broad use and sharing of resources. Please credit CHLP when using these materials or their content. and do not alter, adapt or present as your work without prior permission from CHLP.
Legal Disclaimer: CHLP makes an effort to ensure legal information is correct and current, but the law is regularly changing, and the accuracy of the information provided cannot be guaranteed. The legal information in a given resource may not be applicable to all situations and is not—and should not be relied upon—as a substitute for legal advice.