Braidwood Mgmt. Inc. v. Becerra, N.D. Tex. (March 30, 2023)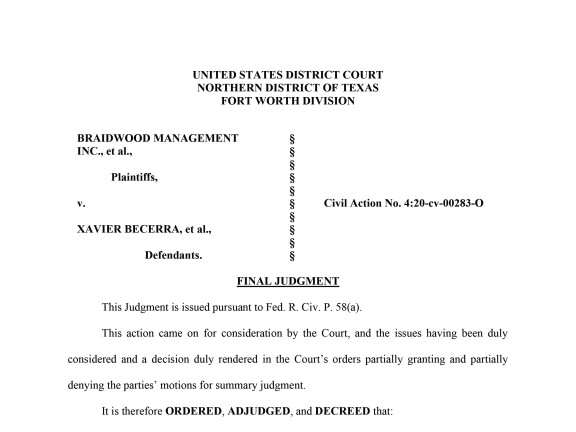 On March 30, 2023, US District Judge Reed O'Connor issued a Final Judgment in Braidwood v. Becerra striking down a provision of the Affordable Care Act that covers a range of preventive health services including PrEP, a medication that prevents HIV.

In June 2019, the United States Preventive Services Task Force (USPSTF) gave oral PrEP a Grade A rating, requiring most insurers to provide free PrEP coverage. USPSTF is an independent, volunteer panel of medical and disease prevention experts that makes recommendations about which drugs should be covered by health insurance plans.

Braidwood plaintiffs argued and Judge OConnor decided that USPSTF violates the Appointments Clause because its members were appointed and not nominated by the President and confirmed by the Senate. The decision strikes down all ACA coverage and cost-sharing protections for USPSTF Grade A and B rated services going back to 2010. As a result, insurers are no longer required to provide free coverage for PrEP or for HIV testing, STD screening, cancer screenings, diabetes screenings, and more, potentially affecting more than 150 million Americans insured with private health coverage.

The Biden Administration is appealing to the Fifth Circuit Court of Appeals. A stay of the ruling, if requested, could put the Texas court's decision on hold until higher courts weigh in on the case.
Copyright Information: CHLP encourages the broad use and sharing of resources. Please credit CHLP when using these materials or their content. and do not alter, adapt or present as your work without prior permission from CHLP.
Legal Disclaimer: CHLP makes an effort to ensure legal information is correct and current, but the law is regularly changing, and the accuracy of the information provided cannot be guaranteed. The legal information in a given resource may not be applicable to all situations and is not—and should not be relied upon—as a substitute for legal advice.