Increased HIV Transmissions with Reduced Insurance Coverage for HIV Preexposure Prophylaxis: Potential Consequences of Braidwood Management v. Becerra, Paltiel, et al., Open Forum Infectious Disease, Oxford University Press (March 16, 2023)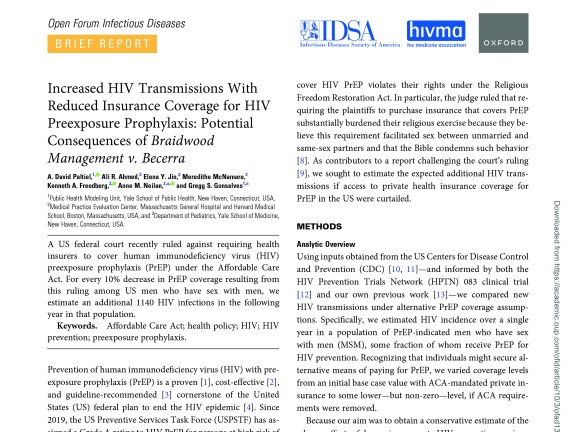 This report estimates the consequences of a Braidwood ruling on September 7, 2022 that struck down the ACA requirement that health insurers provide free PrEP coverage. The data analysis found that for every 10% decrease in PrEP coverage there would be an additional 1,140 HIV infections per year among men who have sex with men in the United States. The report finds that this increase in infections will likely impact Black and Latinx men who have sex with men and sex workers, groups that are already burdened with barriers to HIV prevention and care. And the authors conclude that the decision will undermine efforts to end the HIV epidemic in the U.S.
Copyright Information: CHLP encourages the broad use and sharing of resources. Please credit CHLP when using these materials or their content. and do not alter, adapt or present as your work without prior permission from CHLP.
Legal Disclaimer: CHLP makes an effort to ensure legal information is correct and current, but the law is regularly changing, and the accuracy of the information provided cannot be guaranteed. The legal information in a given resource may not be applicable to all situations and is not—and should not be relied upon—as a substitute for legal advice.