OUTMemphis v. Lee, US District Court for Western District of Tennessee, ACLU et al. (2023)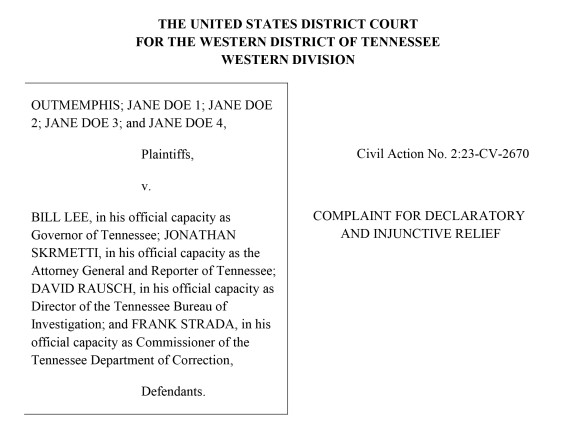 On Tuesday, October 24, the ACLU, the ACLU Foundation of Tennessee and the Transgender Law Center filed this complaint in the United States District Court for the Western District of Tennessee on behalf of OutMemphis and four anonymous individual women. The lawsuit, Out Memphis v. Lee, is a challenge to Tennessee's aggravated prostitution statute as a violation of the Americans with Disabilities Act (ADA) and the U.S. Constitution.
The plaintiffs in Out Memphis v. Lee are represented by the ACLU (Alexis Agathocleous, Alexis Alvarez, Jon W. Davidson, and Rachel Meeropol), the ACLU Foundation of Tennessee (Stella Yarbrough, Jeff Preptit, and Lucas Cameron-Vaughn), and the Transgender Law Center (Lynly S. Egyes, Milo Inglehart, and Dale Melchert).
Copyright Information: CHLP encourages the broad use and sharing of resources. Please credit CHLP when using these materials or their content. and do not alter, adapt or present as your work without prior permission from CHLP.
Legal Disclaimer: CHLP makes an effort to ensure legal information is correct and current, but the law is regularly changing, and the accuracy of the information provided cannot be guaranteed. The legal information in a given resource may not be applicable to all situations and is not—and should not be relied upon—as a substitute for legal advice.