News Release: CHLP Commends Historic Lawsuit Challenging Tennessee's Aggravated Prostitution Laws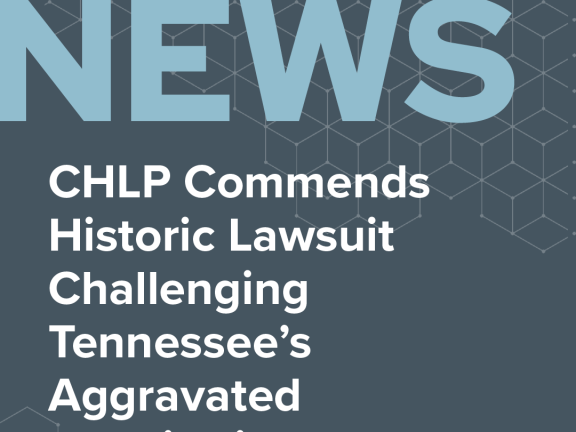 CHLP Commends Historic Lawsuit Challenging Tennessee's Aggravated Prostitution Laws
Lawsuit uses strategies developed by the CHLP-led Team ATAC initiative to use the Americans with Disabilities Act to abolish HIV criminalization laws
(NEW YORK) -- On Tuesday, October 24, the ACLU, the ACLU Foundation of Tennessee, and the Transgender Law Center filed a historic complaint in the United States District Court for the Western District of Tennessee on behalf of OutMemphis and four anonymous individual women. The lawsuit, OutMemphis v. Lee, is a challenge to Tennessee's aggravated prostitution statute as a violation of the Americans with Disabilities Act (ADA) and the U.S. Constitution.
In Tennessee, a prostitution charge is normally a misdemeanor offense. However, the charge is particularly harmful to people living with HIV (PLHIV). If a person living with HIV is alleged to have engaged in an act of prostitution, it becomes an aggravated prostitution charge that is not only elevated to a felony but also mandates lifetime placement on the Tennessee Sex Offender and Violent Sex Offender registry.
Earlier this year, the Tennessee legislature reformed the law, removing exposure to HIV from the list of "violent sexual offenses" requiring registration as a sex offender. While the amended law removed the heightened penalty for PLHIV convicted of criminal exposure, it did not remove the heightened penalty for PLHIV convicted of aggravated prostitution. "The aggravated prostitution law in Tennessee specifically targets historically disenfranchised groups, with the majority of arrests targeting Black women, making this law another tool reinforcing the systemic oppression of Black people," said Jada Hicks, CHLP Staff Attorney.
Tennessee is one of 30 states that has an HIV-specific criminal law. Under current Tennessee law, people living with HIV or hepatitis B or C may still be charged and convicted of a felony for engaging in sexual activities without disclosing their status. A person can be convicted regardless of whether or not transmission occurred, whether there was intent to transmit, or whether the behavior can even result in transmission.
In 2018, CHLP launched Team ATAC (ADA To Attack Criminalization), an innovative strategy to use the Americans with Disabilities Act to challenge HIV criminalization laws. With HIV considered a disability under the ADA, innovative legal strategists led by CHLP have regularly gathered to map out the best pathways to utilize the ADA to challenge and ultimately overturn these criminal laws. The creation of Team ATAC and the foundational work that led up to it is a credit to the leadership of CHLP's founder Catherine Hanssens.
"We commend the diligence of the legal team in this case for embracing this framework and bringing this historic lawsuit, and the bravery of the plaintiffs who shared their individual experiences in pursuit of systemic change," said S. Mandisa Moore-O'Neal, CHLP Executive Director.
This case has the potential to change the lives of some of the most vulnerable Tennesseeans who are subject to the double burden of a felony conviction and a sex offender registration simply for engaging in consensual sex. These offenses are significant barriers to housing, education, and employment opportunities that keep those most marginalized trapped in a cycle of poverty. This case also serves as another incentive for states to act to modernize outdated HIV criminal laws to avoid often costly litigation. CHLP will monitor the ongoing litigation.
The plaintiffs in OutMemphis v. Lee are represented by the ACLU (Alexis Agathocleous, Alexis Alvarez, Jon W. Davidson, and Rachel Meeropol), the ACLU Foundation of Tennessee (Stella Yarbrough, Jeff Preptit, and Lucas Cameron-Vaughn), and the Transgender Law Center (Lynly S. Egyes, Milo Inglehart, and Dale Melchert).
##
CHLP is an abolitionist legal and policy organization that envisions and works for a world where HIV and other stigmatized health conditions are no longer criminalized but met with compassion and the resources to thrive.