The PJP Update, Positive Justice Project (June 2022)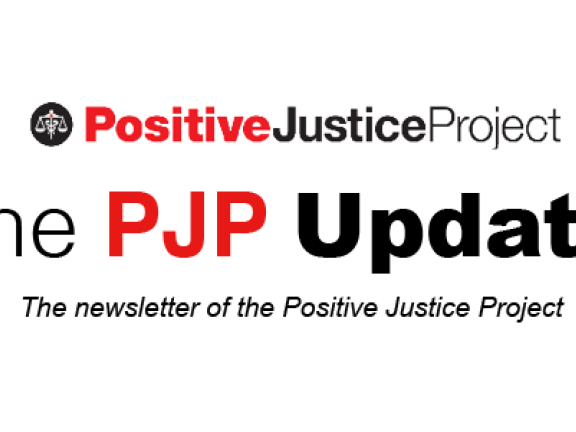 CHLP joins Well Project on UCSF/National Clinician Consultation Center's Panel on Infant Feeding for Parents Living with HIV
On May 24, CHLP's Catherine Hanssens joined our partners at The Well Project at a roundtable for healthcare providers on the intersection of maternal and infant health and breastfeeding for birthing parents living with HIV. The panel had more than 160 attendees, primarily health care providers. Topics included the research and guidance landscape on breastfeeding and HIV, the importance of informed decision-making on infant feeding and a parent's right to control those decisions, and implications for ongoing work and practice. Hanssens joined the Well Project again on June 14 for a Leadership Exchange LIVE webinar on breastfeeding, HIV and criminalization. The Well Project Leadership Exchange is a series that brings together thought leaders in the HIV community to explore one another's work, activism, and personal experiences.

The Elizabeth Taylor AIDS Foundation (ETAF) presents "Night Over America"
On May 17 in Washington DC, CHLP's Catherine Hanssens attended the ETAF presentation of "Night Over America," a play about real-life narratives of those who've been legally persecuted for their HIV status. The play starred Christine Lahti, Mia Lozada, Josh Stamberg, and Justin Weaks. Following the play, Candice Adkins-Wilson moderated a panel featuring Robert Egan, Senator Dallas Harris of Nevada's 11th District, Robert Suttle of the Health Not Prisons Collective, and Director of the White House Office of National AIDS Policy, Harold Phillips.
HIV Criminalization in Focus for SisterLove Legislative Day of Action
On March 24, CHLP presented on HIV criminalization alongside Georgia Equality and the Sero Project for SisterLove's Legislative Day of Action. SisterLove is the oldest women-centered HIV and sexual and reproductive justice advocacy organization in Atlanta and the Southeast. The sessions focused primarily on HIV decriminalization, maternal health, abortion rights, disability justice, and housing justice.
International Women's Day Webinar by OHMM Looks at the Criminalization of Women Living with HIV
On March 8, for International Women's Day, CHLP's Amir Sadeghi and Naimah O'Neal of Circle Health Service were featured speakers in a webinar entitled, Mythbusting: The incarceration of women living with HIV. Hosted by the Ohio Health Modernization Movement, the webinar looks at how race, gender, class, and stigma contribute to the rising numbers of women incarcerated for crimes related to their HIV status in Ohio and across the country. 
Piedmont Health Services Week of Prayer Webinar Examines HIV Laws and Criminalization in North Carolina
On March 8, CHLP joined Pastor William Francis and J. Donte Prayer of the NC AIDS Action Network in a webinar about HIV Criminalization in North Carolina. This webinar was part of a weeklong series of events hosted by Piedmont Health Services and Sickle Cell Agency during their Week of Prayer for the Healing of AIDS.

CHLP and Advocates Meet with ONAP on HIV Criminalization Laws
On January 25, CHLP's Catherine Hanssens joined the White House's Office of National AIDS Policy (ONAP) and Director Harold Phillips for a listening session on HIV criminalization laws. Organizations represented included the CHLP, NASTAD, the O'Neill Institute, the Transgender Law Center and the Williams Institute. Several representatives from the Department of Health and Human Services and the Department of Justice also attended. The newly revised National HIV/AIDS Strategy (NHAS) calls for repeal and reform of state HIV criminalization laws as a means of reducing stigma and discrimination for PLHIV. Read more…
The National HIV Policy Resource Center is CHLP's online database of research materials on topics of importance to PLHIV and their advocates. These CHLP publications are valuable resources for decriminalization work and have all been recently updated.
Map: HIV Criminalization in the United States, CHLP (updated June 2022)
A visual overview of the variety and prevalence of laws used to prosecute and punish PLHIV in the U.S.
Timeline of State Reforms and Repeals of HIV Criminal Laws, CHLP (updated June 2022)
A timeline describing the repeals and reforms to HIV criminal laws in the seven states that have made the most significant changes to their laws since 1994.
Map: An Overview of States Criminalizing Viral Hepatitis, CHLP (updated May 2022)
A visual overview of the variety and prevalence of laws used to prosecute and punish people living with hepatitis in the U.S.
U.S. HIV Laws and Prosecutorial Tools, CHLP (updated April 2022)
A detailed but concise snapshot of the federal and state laws used to prosecute people living with HIV, viral hepatitis, and other sexually transmitted diseases.
HIV Criminalization in the United States: A Sourcebook on State and Federal HIV Criminal Law and Practice, The Center for HIV Law and Policy (updated February 2022)
A 600-page compendium of punitive laws, policies, and cases affecting PLHIV and other communicable diseases in all 50 states, the military, federal prisons, and U.S. territories.
Arkansas
The Arkansas HIV Reform Initiative (AHRI) continues to meet and strategize around HIV criminal law reform, community education, and coalition-building. Meetings are held on the second Thursday of the month at 11:00am (CT). To get involved, contact Eric Reece at [email protected].
Florida
Identical bills, introduced by Sen. Jason Pizzo and Rep. Felicia Robinson, Senate Bill 1074 and House Bill 813, both died in their committees of origin when the Florida legislative session ended on March 14.  Senate Bill 1468, introduced by Senator Linda Stewart, also died when the session concluded. The bills would have made modifications to Florida's criminal transmission of HIV laws. For more information, contact Amir Sadeghi at [email protected].

Georgia

On May 9, Georgia Senate Bill 164, a proposal that reforms the state's nondisclosure statutes, was signed into law by Governor Brian Kemp. The new law: 
requires that a person "knowingly engage in a sex act with the intent to transmit" and that there be a significant risk of transmission for prosecution (although transmission is not required). Significant risk of transmission must be based on current scientific evidenced methods of transmission;
retains felony-level punishments but reduces the possible prison sentence from 10 to 5 years;
requires that the prosecution prove that a sex worker living with HIV consents to perform a sex act with the intent to transmit HIV and requires that there be a significant risk of transmission;
no longer penalizes PLHIV who donate blood, blood products, other body fluids, or any organ or body part;
eliminates felony punishments for PLHIV for assaulting a peace or correctional officer using bodily fluids with intent to transmit.
For more information on the law's implications, see CHLP analysis, HIV Criminal Law Reform, Before and After: Georgia.

The Georgia HIV Justice Coalition also recognizes the importance of developing a strategy to reform Georgia's HIV criminal nondisclosure laws further, particularly reducing the penalty level described above from a felony to a misdemeanor. 

For more information about the Georgia HIV Justice Coalition contact the coalition co-chairs Eric Paulk at [email protected] and Malcolm Reid at [email protected].
Indiana
Indiana House Bill 1032, a proposal introduced by Rep. Sean Eberhart to repeal HIV-related offenses and remove HIV-specific sentence enhancements, died after failing to receive a third reading in the House by the January 31 deadline. The bill would have repealed HIV-related offenses and removed HIV-specific sentence enhancements. House Bill 1158, an omnibus health and human services bill that would have amended sections of the HIV disclosure reporting law introduced by Rep. Edward Clere, also died in the Senate Health and Provider Services Committee soon after passing through the House in January. 

To get involved in current and future advocacy with the Indiana HIV Modernization Movement, contact Carrie Foote at [email protected] or [email protected], or visit the coalition's website.
Louisiana
The Louisiana Coalition on Criminalization and Health (LCCH) continues to meet on the second Wednesday of the month. If you are interested in working with the coalition, contact [email protected].
Minnesota
On February 14, Representative Athena Hollin introduced HF 3399, which was referred to the Public Safety and Criminal Justice Reform Finance and Policy committee. HF 3399 makes adjustments to Minnesota's criminal law related to the transfer of communicable diseases. Under HF 3399: 
PLHIV, specifically, would not be prosecuted for engaging in penetrative sex without disclosing their status or transferring blood, sperm, organs, or tissue; 
However, HF 3399 would make it a crime for PLHIV to intentionally transmit HIV through non-sterile needles or syringes.
For more information, contact Amir Sadeghi at [email protected].
Mississippi
Rep. John W. Hines' House Bill 334 died in the House Judiciary B Committee on February 1. HB 334 would have made adjustments to the HIV- and viral hepatitis-specific sentence enhancements for the exposure of a person's bodily fluids in a correctional setting. If you would like to get involved with the Mississippi HIV Decrim Network, please email  [email protected].
---
Missouri
House Bill 2338, a proposal to repeal and replace sex work-related offenses, was introduced by Rep. Rasheen Aldridge and on May 13 it was assigned to the House Crime Prevention Committee. HB 2338 would repeal HIV-specific criminal enhancements for PLHIV who engage in sex work. Currently, prostitution is a class B misdemeanor, but if a PLHIV is convicted of prostitution, then it is a Class B felony. Advocates in Missouri are still organizing and focusing on community education, click here for more info. 
Nevada
Following the successful passage of Senate Bill 275 last summer, the Nevada HIV Modernization Coalition is monitoring the implementation of the new law. For more information on the bill, see CHLP's analysis: Nevada Passes Law Reforming HIV Criminal Laws. To get involved, contact co-chair Connie Shearer at [email protected].
New Jersey
CHLP will continue to monitor the implementation of New Jersey's enforcement of communicable disease exposure after Governor Phil Murphy signed Senate Bill 3707 into law in January, making New Jersey the third state to repeal its HIV-specific criminal law. 

On March 17, New Jersey Assemblymember Harold Wirths introduced Assembly Bill 3648, which has been referred to the Assembly Health Committee. A3648 creates a pathway to force court-ordered testing for people who come into contact with "first responders" including law enforcement, firefighters, emergency first aid responders, or "any other individual who, in the course of that individual's employment, is dispatched to the scene of an emergency situation for the purpose of providing medical care." 

If a first responder interacts with an individual and "may have been exposed" to a bloodborne pathogen, A3648 allows for the individual to be forced into court-ordered testing, upon a request of a public health officer. This court-ordered testing may apply to testing for HIV, hepatitis B, hepatitis C, and "any other infectious disease that may be transmitted through exposure" to blood. The bill would allow for a public health officer to apply for court-ordered testing if the individual who came into contact with the first responder does not submit voluntarily to a test within 24 hours. A3648 has a provision stating that the court order and any test results acquired through court-ordered testing may not be used for law enforcement purposes or as evidence in any civil proceedings. Also, the bill would allow for the court to order that someone subjected to court-ordered testing reimburse the state for the cost of the tests. 

For more information, contact Amir Sadeghi at [email protected].
Ohio
The Ohio Health Modernization Movement (OHMM) is actively promoting the HIV criminal reform legislation that they have refined over the last few months. They hope to see the legislation introduced this year. OHMM meetings are held every other month on the third Monday 6:00pm (ET). For more information, contact [email protected] or visit OHMM's website.
Rhode Island
On March 17, Sen. Jeanine Calkin introduced Senate Bill 2713, and the bill was referred to the Senate Judiciary Committee. The committee did not vote on the bill, recommending the proposal be held for "further study." SB 2713 would have decriminalized prostitution-related criminal offenses and repealed a law requiring HIV testing for certain offenses. The bill was scheduled for hearing and consideration on April 5, and on that date, the bill was recommended for further study. Under SB 2713: 
Those convicted, placed on probation or charged under prostitution, procurement of sexual conduct for a fee, loitering for prostitution, soliciting from motor vehicles, or examination and venereal disease laws would have their records expunged, at no cost to that person, one year after completing their sentence.  
Removes prostitution from the list of offenses that a business can be enjoined for. 
Removes the requirement that a person convicted of prostitution-related offenses must undergo HIV testing. 
For more information, contact Amir Sadeghi at [email protected].
Southern States
The Southern HIV Decriminalization Network shares information and ideas about the work of state groups in the South to reform their laws and reports on case developments of interest to the group. Calls are held on the fourth Thursday of the month at 3:00pm (ET). To join, contact Charles Stephens at [email protected].
Tennessee
The Tennessee HIV Modernization Coalition is working with Rep. Gloria Johnson who introduced House Bill 2792 on February 2, but the bill never progressed to a hearing in the House Criminal Justice Committee. While HB 2792 died in session, it was a proposal that sought to make significant reforms to Tennessee's HIV criminal exposure laws. 

A pair of companion bills, House Bill 1214 and Senate Bill 1165, were introduced on February 11 but were not related to advocacy from the Tennessee HIV Modernization Coalition. According to testimony from the bill sponsor Rep. Bob Ramsey on March 29, the original intent of introducing this legislation was to make changes to Tennessee's HIV criminal laws, but the bills were eventually scaled back. HB 1214 and SB 1164 would have removed convictions under Tennessee's criminal exposure law from the list of offenses that require sex offender registration and would have allowed for people previously convicted under the statute to petition for removal from the sex offender registry. However, these bills retained sex offender registration for people in Tennessee convicted under the state's "aggravated prostitution" law used against sex workers living with HIV. The bills did not contain any changes to Tennessee's HIV criminal provisions. 

SB 1165 passed 28-3 through the Senate as amended on April 13. On April 21 it was substituted for the House companion bill, HB 1214, but failed to pass the House the same day. 

The Tennessee HIV Modernization Coalition continues to build its community-driven, state-level campaign and recently held a series of HIV modernization town halls. To learn more and register for coalition meetings, visit their website at or contact Robin Lennon-Dearing at [email protected]. The coalition meets on the second Wednesday of every month at 10:00am (CT).
Utah
House Bill 81, introduced by Representative Susan Pulsipher, was signed by Governor Spencer Cox on March 22. HB 81 modified elements and penalties for sexual solicitation and related offenses. The bill: 
allows the court to waive, lower, or suspend fines associated with patronizing or solicitation if the person "pays for and completes a court-approved educational program" about human trafficking or prostitution;  
retained enhanced, felony-level penalties for PLHIV who are convicted of prostitution or sexual solicitation. If a PLHIV engages in sex work by offering, taking steps to arrange, loitering, or engaging in sexual activity for a fee, then they may be convicted of a 3rd-degree felony; 
increased penalties for a PLHIV who patronizes, agrees to pay, or pays a sex worker from a 3rd-degree felony, punishable by up to 5 years' imprisonment, to a 2nd-degree felony, punishable by up to 15 years.
For more information, contact Amir Sadeghi at [email protected].
Washington
Now that the Washington State Board of Health has adopted regulations implementing the revised law affecting the criminalization of people living with HIV, it will be important to monitor how they are implemented. The Washington HIV Justice Alliance meets every other Monday at 11:00am (PT). To get involved, contact Dallas at [email protected].
CHLP's assistance in criminal cases includes counseling defendants and their families, providing legal and trial strategy support to criminal defense attorneys, identifying and assisting with the preparation of medical and scientific experts, drafting sections of court submissions, and submitting friend-of-the-court briefs.
Montana
Earlier this year, a Montana federal district court determined that Montana violated both the state and United States Constitutions when it required sex offense registration for Menges, a gay man convicted (when he was 18) of "crimes against nature" for having consensual sex with another young man in 1993. Montana's Attorney General appealed the ruling to the 9th Circuit Court of Appeals. CHLP's Catherine Hanssens coordinated with lawyers from the Montana ACLU and Lambda Legal, which took the lead on an amicus brief in support of Menges filed in January. Arguments in the federal court of appeals were on May 11th. A decision is pending.
New York
An appeal of the July 2021 decision denying Nushawn Williams' annual review petition to be released from civil confinement is underway. CHLP is working closely with Nushawn's appellate attorney. Currently, the expected filing date of the briefs in his appeal is July 2022. In the meantime, the Free Nushawn Coalition is coordinating informal advocacy in New York. We urge all New Yorkers to continue to reach out to NY Attorney General Leticia James, and to their other elected representatives at the local and state level to express outrage at Nushawn's continued confinement. New Yorkers interested in joining the Free Nushawn Coalition should contact Amir Sadeghi at [email protected].
Virginia
On January 11, the Virginia Supreme Court heard oral argument on the appeal of the civil commitment of Galen Baughman. Baughman is a gay man and advocate who was civilly committed and then placed on indefinite intensive supervision due to a finding – based on nonsexual texts with a young man living in another state – that he is a "sexually violent predator" likely to commit a violent sex offense in the future. CHLP's friend-of-the-court brief in support of Baughman's petition for appeal was included in the record before the court. For more information, see CHLP Brief Calls out Homophobic Bias in Case of Gay Man Unjustly Designated a "Sexually Violent Predator". Baughman was released temporarily from custody in December 2021 pending the outcome of the appeal.
If you are aware of anyone charged in an HIV exposure or transmission case, please refer them or their lawyer to CHLP for assistance at 212-430-6733 or [email protected]
The Positive Justice Project is made possible through the generous support of individuals across the country, and the following major donors:
Brian McCarthy Foundation
Levi Strauss Foundation
Fund for the City of New York
Broadway Cares/Equity Fights AIDS
Gilead
ViiV
Copyright Information: CHLP encourages the broad use and sharing of resources. Please credit CHLP when using these materials or their content. and do not alter, adapt or present as your work without prior permission from CHLP.
Legal Disclaimer: CHLP makes an effort to ensure legal information is correct and current, but the law is regularly changing, and the accuracy of the information provided cannot be guaranteed. The legal information in a given resource may not be applicable to all situations and is not—and should not be relied upon—as a substitute for legal advice.