Briefing Paper: CHLP News, April 2022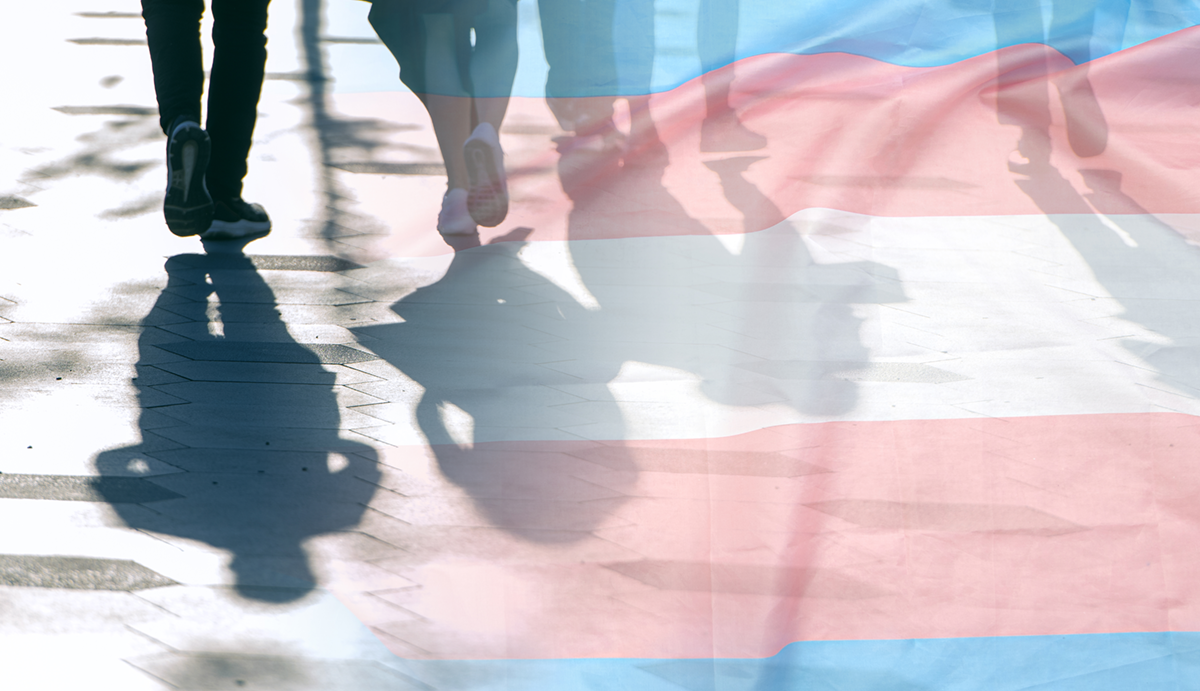 April 2022
National Transgender HIV Testing Day
Prioritizing the Health Needs of Transgender Youth in the Context of National Backlash
Every day the news delivers reports on the latest in a recent string of assaults on the rights of the transgender community. In the context of a torrent of bans on everything from sports to speech to books to bathrooms, states like Texas and Idaho threaten to prosecute families that cross state lines to pursue gender-affirming care for their trans children. Last week, Alabama lawmakers raised this ugly bar even higher and voted to make it a felony for doctors to provide gender-affirming care to youth under 19 years of age.
It is painfully clear that transgender youth are being used as collateral in politically motivated culture wars by partisans looking to fan the flames of fear and drive voters to the polls in upcoming elections. The laws themselves defy not only logic but the GOP's long-standing insistence on smaller government and the loosening of regulations that infringe on personal freedoms. The family values party is perpetuating an all-out assault on families, at least those with which they disapprove.
Lawsuits are being filed to defend against many of these harmful laws. But a strong offense is also needed as the fallout from these laws is vast and touches on several areas, one in particular is the direct impact on the health and wellbeing of LGBTQ+ youth. These laws are not only eroding trust in the medical establishment and contributing to a climate that is antagonistic to public health but they come at a time when sexually transmitted infections are on the rise. A recent report from the CDC notes that STDs in the U.S. continued to increase during the first year of the COVID-19 pandemic, with 2.4 million cases reported in 2020.
Medical providers already experience uncertainty when treating LGBTQ+ patients. That uncertainty turns into discomfort and discrimination, with negative consequences for patient health. The situation is even more dire for transgender youth who are at the intersection of various forms of oppression. According to studies conducted by the National Center for Transgender Equality, Black and Latin trans youth are less likely to seek out gender-affirming care.
Today is National Transgender HIV Testing Day and if there's one thing that could address the mistrust and discrimination that communities hit hardest by HIV and STIs continue to experience it would be training licensed healthcare providers in sexual health, including how to talk to patients about sex, STIs and HIV.
In mounting an offense and pushing back against these trends, CHLP is leading a campaign in New York State addressing the huge gaps in sexual health training. Assembly Bill A3864 is a first-of-its-kind proposal that would require education about sexual orientation, gender identity, and HIV/STI literacy mandatory for all medical professionals. Local and national organizations are helping to move the needle in New York towards a more patient-centered, affirming, and inclusive health system. What's more, this continuing education will fill a void in cultural competency training that is an integral part of so many state and national Ending the Epidemic plans. CHLP is expanding the advocacy with state policymakers that produced AB A3864 to a national campaign to make sexual health literacy mandates a part of these plans.
Spreading the word about this mission, we've participated in the New York State Department of Health AIDS Institute's 2021 World AIDS Day and Ending the Epidemic Summit, leading a workshop called Policing Pandemics: Criminalization, Stigma, and Destabilizing Harmful Responses to Public Health. The panel focused in part on sexual health illiteracy in the medical profession, and how factors like criminalization and molecular HIV surveillance can further contribute to medical mistrust.
In a recent CHLP blog for National Youth HIV/AIDS Awareness Day (NYHAAD) on April 10, we stress that youth on the margins don't have access to modern HIV and STI prevention and emphasize the importance of centering system-affected youth in national dialogues about sexual health and LGBTQ+ rights.
This means an understanding of HIV and STIs and how to offer testing, the continuum of sexual orientation and gender identity, and how to talk about sex, STIs, and sexuality with anyone who presents for care regardless of who they are. We plan to continue to support such policies in New York and to expand this campaign for similar policy changes at the state and federal levels.
To that end, we're working on a new survey that will assess medical professionals' training and work experience with sexual health care. Our goal is to better understand the state and role of sexual health care, as reflected in the reported experiences and opinions of medical professionals on whether and how to have conversations with patients about their sexual health and sexual history.
And this June, CHLP will launch a consensus statement around National HIV Testing Day to solidify support across jurisdictions, professions, and stakeholders on the need for continuing medical education for all health care workers on sexual health literacy, sexual orientation, gender identity, gender expression, STIs, HIV, and other basic information about sexuality.
Addressing the gaps in sexual health literacy requirements for health professionals will signal that health care workers have a unique and currently overlooked role in public health-oriented approaches to disease and sexual health. These changes will make a difference in the lives of all LGBTQ+ youth, and especially transgender youth, and advance the goal of ending the HIV epidemic.

Celebrating the Historic Appointment of Judge Ketanji Brown Jackson to the U.S. Supreme Court
The confirmation of Judge Jackson this month as the first Black woman to serve on the Supreme Court is both historic and a long-overdue step toward better representation at the highest levels of the federal judiciary. In March, CHLP joined 44 disability rights organizations and advocates in endorsing a letter by The Bazelon Center for Mental Health Law to the Senate Judiciary Committee supporting the nomination of Judge Ketanji Brown Jackson to the U.S. Supreme Court. Read more...
CHLP Joins The Well Project in a Webinar and Resource Sharing for National Women and Girls HIV/AIDS Awareness Day
For National Women and Girls HIV/AIDS Awareness Day, CHLP's Founding Executive Director Catherine Hanssens joined The Well Project for a #NWGHAAD webinar on Wednesday, March 16, that brought together US-based organizations committed to ensuring that parents living with HIV are able to make the best infant-feeding decisions for themselves and their babies -– including HIVE, ICW-NA, Prevention Access Campaign, CHLP, The Afiya Center, and Transgender Strategy Center. 
Confronting Criminalization Webinar Observes Inaugural HIV Criminalization Awareness Day
On February 28, CHLP co-sponsored a webinar entitled, Confronting HIV Criminalization: Promoting Criminal Justice Reform to Protect Marginalized Communities and End Mass Incarceration. Hosted by the Mississippi Center for Justice, this two-part webinar marked the inaugural HIV Criminalization Awareness Day. The webinar drew connections between HIV criminalization and other forms of criminalization and over-policing, and looked at partnerships that offer new pathways for broader criminal justice reform. Sponsoring organizations include the Association of Prosecuting Attorneys, Fair Trials, Prevention Access Campaign, SUNY-Downstate/HEAT, and the Williams Institute/UCLA. Read more...
PACHA Council Meeting on Molecular Surveillance Includes CHLP Testimony
The Presidential Advisory Council on HIV/AIDS (PACHA) convened the 72nd full council meeting in November 2021. Demetre Daskalakis and Alexa Oster from the CDC Division of HIV Prevention presented 
HIV Cluster Detection and Response
 on molecular HIV surveillance from a health department perspective. During the public comment period, CHLP's Amir Sadeghi 
testified on molecular HIV surveillance
 and the significant concerns levied by community advocates, including the issue of how the health data of PLHIV is used without their consent and can be weaponized against them. 
Read more...
CHLP and Advocates Meet with ONAP on HIV Criminalization Laws
On January 25, CHLP's Catherine Hanssens joined the White House's Office of National AIDS Policy (ONAP) and Director Harold Phillips for a listening session on HIV criminalization laws. Organizations represented included the CHLP, NASTAD, the O'Neill Institute, Sero, the Transgender Law Center, and the Williams Institute. Several representatives from the Department of Health and Human Services and the Department of Justice also attended. The newly revised National HIV/AIDS Strategy (NHAS) calls for repeal and reform of state HIV criminalization laws as a means of reducing stigma and discrimination for PLHIV. Read more...
After a short hiatus, we are pleased to bring back updates to The National HIV Policy Resource Center as part of the Briefing Paper newsletter. The Resource Center is CHLP's online database of research materials on topics of importance to PLHIV and their advocates. This issue focuses on important, newly updated CHLP publications.
U.S. HIV Laws and Prosecutorial Tools, CHLP (updated April 2022)
A detailed but concise snapshot of the federal and state laws used to prosecute people living with HIV (PLHIV), viral hepatitis and other sexually transmitted diseases.
---
Timeline of State Reforms and Repeals of HIV Criminal Laws, CHLP (updated February 2022)
A timeline describing the repeals and reforms to HIV criminal laws in the seven states that have made the most significant changes to their laws since 1994.
---
HIV Criminalization in the United States: A Sourcebook on State and Federal HIV Criminal Law and Practice, The Center for HIV Law and Policy (updated February 2022)
A 600-page compendium of punitive laws, policies, and cases affecting PLHIV and other communicable diseases in all 50 states, the military, federal prisons, and U.S. territories.
---
Map: HIV Criminalization in the United States, CHLP (updated February 2022)
An overview of the variety and prevalence of laws used to prosecute and punish PLHIV in the U.S.
---
The PJP Update, Positive Justice Project (January 2022)
The newsletter of the Positive Justice Project features news on CHLP's decriminalization work and updates from states across the country. 
CHLP's work is made possible through the generous support of individuals across the country, and the following major donors: Brian McCarthy Foundation, Levi Strauss Foundation, Fund for the City of New York, Broadway Cares/Equity Fights AIDS, Gilead, and ViiV.